5 Reasons Not to Abandon Your Dream to Start a Travel Agency
The travel industry has never encountered a disruption equal in impact to the current pandemic. At the time of writing this, there is an unprecedented Global Level 4 Health Advisory from the State Department. The message is clear: Everyone needs to stay home and practice social distancing, until conditions are safe for our communities.
If you've ever had a dream to start your travel agency, don't abandon that dream now.
Despite this reality, if you've ever had a dream to start your travel agency, don't abandon that dream now.
I get it. The idea of starting a travel agency when the majority of the world is unable to leave their home probably sounds ludicrous. But hear me out: New agencies have the advantage of evolving out of the new travel landscape, rather than trying to adapt to it.
Not sold? Here's 5 reasons why you should hold onto your dream to start a travel agency.


1. Travel Agencies Take a Few Years to Become Profitable
Here's the good news: In the time it takes for your agency to become profitable, the travel industry will have settled into a new normal.
All new businesses take time to become profitable, and starting a travel agency is no exception. In fact, for travel agents it can take even longer. Here's why:


It takes time to get set up & to get familiar with the industry:
Sure, our free 7 Day Setup LITE program walks you through the steps of starting your agency. It takes most agents a bare minimum of two weeks to open up shop, with many taking months as they work through the program at their own pace.
Once your agency is open for business and you get your logins to suppliers' travel agent portals, you'll have an entire industry to learn. Most new travel agents will spend more time navigating the terrain of the industry than actually booking trips.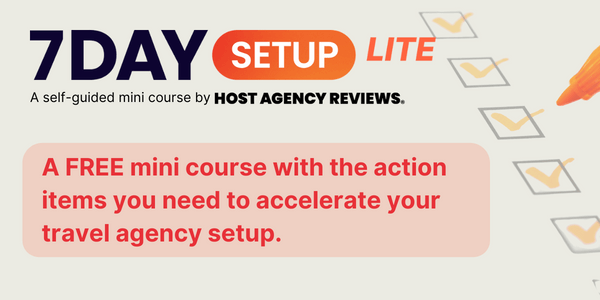 The advantage of starting your travel agency during the pandemic is that time—a resource that we're often short on when trying to start a new venture—is plentiful. The upside to quarantines? You can put your head down and get your learning on.


It takes time to build a client base:
When it comes to running a travel agency, "Finding Clients" was the biggest challenge for new agents in 2019.
Only 30% of new agents reported having more than 50 clients. Not too shabby! But 70% of experienced agents1 reported having 50+ clients. This indicates that it takes time to build up a client list. Why is this? Here's a few reasons.
1. Since travel is a big ticket item, the sales cycle is longer. You might be working with clients in your first year that don't actually book until the following year!


2. A travel agency's book of business is largely based on repeat and referral clients. With most customers only booking 1-2 trips a year, Year Two is where the repeat and referral clients pick up and your book of business really grows.


Travel agents aren't paid commissions until the travel is complete:
This is what separates starting a travel agency from other entrepreneurial endeavors. You have to play the long game. Not only may clients wait to book until the following year, but travel agents' commissions are paid after their client travels. Or, in the case of most cruises, after final payment (3-4 months before departure).
Even if you are the rare unicorn of with droves of clients right from the get-go, in most cases your paycheck won't land in your bank account until well after clients' final payments are made. Since clients may book out months or a year in advance, this can be quite a wait.
In most cases your paycheck won't land in your bank account until well after clients' final payments are made.
This is all to say most travel agencies aren't rolling in the dough their first year, pandemic or not. Travel agents in their first year reported earning $3,250 in 2019. But in their second year, they reported 4x more ($12,492).
Need more convincing? I'm saving the best for last: The average income of experienced agents was $44,312 for all agents, and $61,427 for agents who worked full time (30+ hours).


2. People Will Travel Again
A survey by Trip Scout, indicates that that travelers still anticipate taking trips in 2020; "90% of travelers still plan on traveling in 2020." Furthermore, "70% of travelers are currently planning for trips 6 months away and 34% are booking refundable travel for dates in the future."
90% of travelers still plan on traveling in 2020
Additionally, new agents will be able to respond to the changing habits of travelers. One of those new habits may very likely be to rely on a travel agent. Why? In light of the pandemic, travelers are beginning to understand the need for extra support while planning and booking a trip.
This brings us to #3 . . .


3. When People Start Traveling Again, They'll Want a Travel Agent More Than Ever.
This recent announcement from Bookit.com says it all:
In short, online travel agencies did not come through for travelers impacted by COVID-19. Costco's Travel was flooded with consumer complaints. Many third-party online booking sites left their consumers stranded. Not only is this terrible customer service, but it's a danger to travelers.
But do you know who have been supporting scared and stranded travelers? Travel agents. The value of a travel advisor is becoming tragically evident amidst the pandemic.
Travel agents offer travelers a single point of contact, helping them in situations that range from inconvenient to terrifying.
Travelers will realize that working with a travel agent offers than savings in time and money more than save travelers—it provides them with security, safety, and a peace of mind. Travel agents offer travelers a single point of contact, helping them in situations that range from inconvenient to terrifying.
Not only that, but travel agents will be best-equipped to evaluate which suppliers are coming out strong on the other side of the pandemic. No one knows more than a travel agent about which suppliers offer supportive cancellation and rebooking policies, and this knowledge will be more valuable than ever. This will be a huge win for travelers.


4. Your Travel Agency Will Evolve out of New Travel Trends
The pandemic will undoubtedly change the way people travel.
It's uncertain exactly what these trends will be as of yet, however a study by Luggage Hero suggests that 18% travelers are considering domestic trips, and a Forbes article speculates that travelers may opt for shorter trips during a "soft" economy.
Regardless of what these trends are, if you're beginning to consider a travel agent career, your business will evolve out of these new trends.


5. You Can Explore & Learn the Industry for Free
Okay, so you may not have access to a bunch of extra loot right now. But the good news is that researching and learning the industry is free. Where do you find these free resources? Here's a few tips to find them:
1. 7 Day Setup: HAR's 7 Day Setup (7DS) is free. While it will cost money to take the steps to purchase a domain, registering your business and signing on with a host, you don't need to follow through with those steps until you're ready.
Rather, if you're looking to acquaint yourself with the industry, use the 7DS as a research and budgeting tool. You can do the groundwork and research at no cost.
Heck, you can even develop branding and set up a free Wix website by following along with our step-by-step tutorial. If the day comes you're ready to start, you can get going in no time.
2. HAR Resources: I promise to stop self-promoting soon. But HAR's resources are an in depth, one-stop-shop for those considering a future in selling travel (yes, there will be one).
On the site you can glean a significant amount of knowledge about the industry and even take a peek behind the curtain and see how travel agents work their magic.
3. Free Supplier & Destination Trainings: Yes. Free. Where can you find these resources? Well, a good start is to check out free webinars on HAR's event page. But there's more: Travel Institute offers some free webinars; Travel Agent Academy provides a comprehensive list of destination, niche, and product trainings; and Travel Weekly also offers training resources.
Have you found yourself with an unprecedented amount of free time on your hands? If this is you, and you're interested in exploring a future as a travel agent, there are a TON of opportunities to explore and learn the industry for free (or cheap if you can afford to drop a few coins).
These resources are just the tip of the tip of the iceberg. There's a ton of ways to learn the ropes of the industry, without spending a dime.


In Closing
Travel agents have a history of bouncing back. They rebounded from 9/11, recovered from the recession of 2008, and came back after countless natural disasters. Once borders reopen and social distancing returns to a culture of community and connection, where will you be?
No doubt bout it: Right now is a scary time to start a business. But if you've been interested in starting a career as a travel agent, I encourage you to hold onto that dream. A downturn is, in many ways, an ideal time to dip your toes in the industry.
Have questions or hesitations about getting started? HAR is here for you. Reach out to the HAR crew at Hello@HostAgencyReviews.com, drop us a line in the comments below, or reach out to us on social. We're here for you!
---
Footnotes
3+ years of experience ↩