Adventures in Alaska . . . with Arthritis
This September, Mary and I went to the Adventure Travel World Summit (ATWS) in Anchorage, Alaska. It'd been a while since I'd last visited AK. Last time I was there, I hiked and camped the whole time. I was the Stephanie Lee with boundless energy who embraced the open skies and fearlessly encountered its vast wilderness—I was unstoppable! But this visit to AK was a bit different. Okay, a lot different.
Because, as many of you know, I'm 36 and I have arthritis—part of a larger chronic diagnosis that left me home-bound for almost two years. Going to ATWS was my first major trip (can we get a high five on that?). As such, I decided to throw caution to the wind and embrace the ATWS mantra––GO BIG! BE BOLD! I wanted to test my limits and see if I could still have adventure in my life!
It turns out my limits are very different these days. I (literally) rolled into the Summit in my wheelchair. Not a great start. Especially since I was there for the Adventure Travel World Summit. I couldn't help but notice there weren't a whole lot of people in wheelchairs attending. 🙂 Whereas Mary came back from a backpacking trip stiff from lactic acid buildup, I needed a hot Epsom salt bath every night and a soft cozy bed to sleep in because I had to muster all my energy for the 2-block walk to the conference center.
I wasn't sure how this would go. But—spoiler alert!—it turns you can still dive into awe-inspiring Alaska with arthritis and/or a chronic disease! Phew! I decided to pull together a few suggestions on just how to do that for you or your clients!
AK Travel Tip: Always dress warm and in layers! The temperature changes in the mountains, on the coast, on the glaciers, can be pretty extreme. It can freeze up those arthritic joints in no time!


Knik River Lodge
Overview: Knik River Lodge has gorgeous views and is a brief and beautiful hour-long drive from Anchorage. Once you arrive, there are a variety of helicopter tours that take off right from the lodge. They've also got a restaurant on-site and kitchenettes in the rooms. The lodge is secluded and peaceful.
Getting There: Don't wanna drive? No problem. You can take the Alaska Railroad (wheelchair accessible!) and grab a transfer from the railroad depot in Anchorage, Wasilla or Palmer (the transfer will run between $50-$80 per person depending on location). If you're able, I'd recommend driving if you can because there are so many beautiful places to pull over along the way! Like this: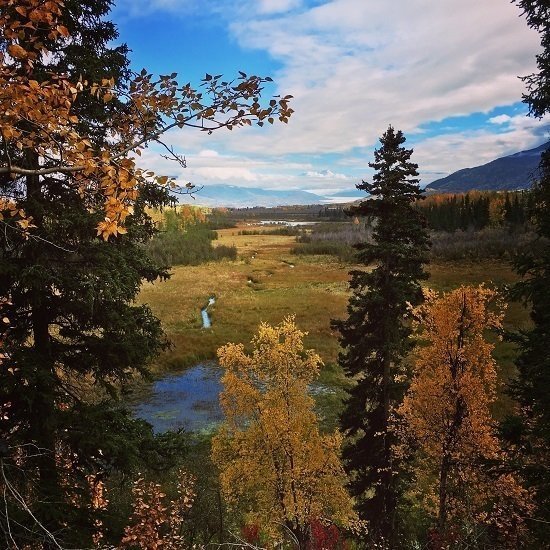 Accessibility Highlights: There's a restaurant on site, and kitchenettes in the rooms. The space is secluded and peaceful––but no bathtubs or handicapped accessible showers. The lodge also offers a variety of helicopter tours that take off right from the site.
I went on an Alaska Iceberg & Glacier Tour. It includes a 30 minute glacial landing and gets you to places you couldn't hike to, even if you were able. Win-win! The views as you fly over the glacier were breathtaking. Here's a sneak peek of my sweet ride:
They also have a few other helicopter tours, including glacial lake kayaking and one that's snuggly and adorable —- PUPPIES ON SNOW!!!! Or, as they call it, the Summer Dogsled Tours with Helicopter Flight Seeing Tour. I would have loved to have experienced it but it was closed for the season by the time I arrived. Sad face. 🙁
Accessibility Challenges:
The helicopter landing pad is right next to the main lodge. Bonus! But there's a small, steep gravel hill to get down to the launching point. Not easy with mobility issues or a wheelchair. Crampons for glacier if you want them (we didn't use).
The Knik River Lodge has a few steps up to the cabins and, so are not wheelchair accessible. But the main lodge has a ramp if stairs are tough for you.
Travel Agent Bonus Booking Info! Agents can book Knik River Lodge directly or through Tauck Tours or UnCruise Adventures.


Brief Intermission
If you're here, reading this I have something for you! In our Travel Agent Chatter Episode 19, I chatted with Becky Kirby on Accessible Travel. Here's what she had to say:
Now back to our regular programming!


Alyeska Ski Resort
Overview: Alyeska is one of the only ski resorts in Alaska, but there's plenty to do before snow hits the ground! The resort is a 50-minute drive from Anchorage along the Turnagain Arm—one of the largest tidal bores in the world and home to plenty of beluga whales you can try to spot along the way (but please, do keep your eyes on the road). It produces such a magnitude of a wave (think tidal wave), it's known as a unique destination for fearless surfers.
The resort offers a range of activities including hiking or mountain biking. Those were out of the question for me. So I settled for trying their spa and a tram ride up to the top of the mountain (silly people that hiked up there!). On top, my hard work of sitting on a tram was rewarded with a bird's-eye view of the Turnagain arm and a bite to eat at the mountaintop cafe.
The warm saltwater pool itself has some pretty stunning views of the mountains and the attached sauna and whirlpool are pretty nice to soak your sore joints—especially if you got a massage at Alyeska that made you so sore you couldn't move, like I did (read on for more about that).
Getting There: If driving a rental car is out of the question for you, you can check out the Glacier Valley Transit System, a bus service which offers accessibility accommodations upon request.
Accessibility Highlights: Getting to the top of a gorgeous mountain without a hike is a bonus! Gotta love trams—I'm thinking of installing one in my yard I loved it so much. 🙂 The resort also includes elevators and handicapped-accessible rooms.
Accessibility Challenges: Well, in my case the massage left me hurting pretty bad. I don't think my masseuse truly understood that I have arthritis and a connective tissue disease and that I needed gentle work done. So my advice on that is maybe stick to a facial or non-massage spa service so you aren't down and out for a day after the massage like I was. Danger, danger! Masseurs that don't usually work with people in chronic pain!
Travel Agent Bonus Booking Info! Book a room or package direct for a 10% flat commission Ski.com and SnowVenture work with agents and also offer the same commission.


Kenai Peninsula
Road trip!!! Yes! The Kenai peninsula is an Alaskan gem and easily accessible from Anchorage. Plus, if the road signs are any indication, there's a great chance for a moose sighting (no luck for us, sadly)! You traverse through beautiful terrain from mountains to ocean—and usually within a stone's throw of one another. I'll break down my Kenai whirlwind trip into the cities we visited:
Homer
An artist's getaway at the end of the road (literally). People love to come here for the arts (there are galleries galore), fishing (halibut, anyone?), and there's also a few helicopter tours. Because I'm all about helicopter tours now!
Why do I keep talking about helicopter tours? Well, they're really nice for those of us with sore joints. We get to see places we never dreamed of having access to. Unless you're used to flying in helicopters — which I was not, but I sure could get used to. 🙂
The helicopter tour we went on was Alaska Ultimate Safaris, which offers bear viewing tours or glacier tours. Eric and Kirsten greet you in awesome waders and once you get into the air, you feel like a giant bumble bee hovering around the mountains. If you squint out the window, you might see mountain goats or Dal sheep in tiny white clusters. To my ultimate disappointment, we were too late in the season to snuggle with grizzlies, but the stunning glacier views did not disappoint—the trip may or may not have included lounging on a snowy tundra drinking champagne. 😉
Getting There: Car rental required to get there and around town.
Accessibility Highlights: The Alaska Ultimate Safaris helicopter tour was doable with arthritis. The heli pad only has one low step and is floating so the balance part could be a bit tricky. Once you're in, the trip is not physically demanding even though you feel like you're having a grand adventure. However, the bear viewing tour includes slow-paced walking (poles can be helpful). But if you're not able to do the walk, the glacier tour is likely more appropriate for you (and provides camping chairs).
We stayed at The Ocean Shores which had an amazing an unobstructed view of the water. Sigh. Though there were steps for us to get up to our room (about 6) they also provide handicap accessible rooms upon request.
Accessibility Challenges: Homer is a difficult city to walk around due to its sprawl and hills.
Travel Agent Bonus Booking Info! Homer is a popular cruise stop so if you're looking to book an excursion, Alaska Ultimate Safaris works with travel agents and pays 10%.
Seward
First things first, Kenai Fjords National Park-a-licious! Second, the Major Marine cruise. You must do the cruise! The town of Seward is small, walkable, and quaint. We stayed at the Harbor 360 hotel, which was great because Major Marine Tours docks right outside the hotel. A 6-8 hour cruise may seem like a long time but it passes relatively quickly, especially if the weather is beautiful. Last time I had taken the same cruise and was able to see whales, puffins, sea otters, rookeries, and of course the glaciers. This time, we enjoyed amazing weather and spent almost the entire time out on deck staring at glaciers even though it was late September.
Accessibility Highlights: Seward is very compact, flat, with easy-to-navigate sidewalks. There's plenty within walking distance from Harbor 360, but more to see if you want to venture out farther too (most of its small downtown area was closed when we were there in late September). Major Marine Tours has a somewhat steep but sturdy boat ramp required to get aboard. Totally worth it when you get views like this:
Accessibility Challenges: Once you're on the boat, there are steps to navigate and it can be more challenging to walk around on deck––especially in choppy waters. I can't emphasizes enough the importance of dressing in many warm layers. The wind can change on a dime, and when you get close to the glaciers you will feel a drop in temperature. And trust me, you won't want to budge even if you're freezing because the views are AMAZING!!!
Travel Agent Bonus Booking Info! Seward is a popular cruise port for Holland America, Celebrity, Royal Caribbean, Silverseas, Regent Seven Seas, and Seabourn. Major Marine Tours works with travel agents and ShoreTrips offers plenty of other commissionable excursion options for your clients.


Is Alaska Travel Right for My (Arthritic) Client?
Heck yeah! Never let arthritis get you down, I say!
Alaska is known to many only through lens of a cruise vacation, but there's a lot travelers stand to miss out on if they don't go on land too. I like to joke that I'm a 36 year-old trapped in a 96-year-old body. But it's a 96-year-old body that still wants to experience adventure!
I want to assure you that you (or your clients) can enjoy Alaska even if you have arthritis (like me) or other mobility challenges. There's something for everyone . . . even in adventure-riddled Alaska. There's nothing like being helicoptered through mountain valleys and onto a glacier—and I assure you that my spry and healthy friends who were with me loved every bit of the adventure too.
So, if you're planning some side trips for a client with mobility considerations, make sure you talk to the tour operator and/or have a three-way convo with them and your client so everyone's on the same page, and knows what to expect. You're like to have one very happy client in the end. I know I was.
Alaska or bust!