Adventure Travel Is No Longer Uncharted Territory for Leisure Travel Agents
The number of travel agents attending the Adventure Travel Trade Association's (ATTA) Adventure Travel World Summit (ATWS) is on the rise!
This year at the ATWS in Anchorage, travel agents staked their claim among tour operators, Destination Management Companies (DMCs) and media members. Travel agents made up 4.4% of the attendees, an uptick from 2% in 2014 and 3% last year1. This trend follows significant growth in the adventure travel sector, which grew 65% between 2009 and 2012, resulting in a $263 Billion dollar increase2. Whoa.
According to ATTA's Vice President of Marketing and Communications, Casey Hanisko, "[ATTA would] like to continue to educate adventure travel tour operators on why and how to work with travel agents and more networking connections between tour operators and agents, and we'd like to educate travel agents on the evolving world of adventure travel."
In this vein, ATTA made a concerted effort to bring more travel agents into the fold: This year Perry Lungmus, Vice President of Travel Leaders Franchise Group, facilitated two travel-agent-specific panels that focused on creating working relationships between travel agents and tour operators.
Overall, many travel agents found that the ATWS provided a unique opportunity to tap into the fragmented supply base (read, global boutique tour operators and DMCs) that may otherwise be difficult to access. Tour operators (some of whom had never worked with agents before) had the opportunity to learn more about best practices in working with agents. Hurray for ATTA on giving a little love to travel agents! But let me back up a little. Just what exactly is the ATWS anyway?
The ATWS Rundown
The ATWS is not your average travel conference. Sure, it has conference staples like panels and talks, snacks at a frequency to turn your liver into foie, networking opportunities, one (or two)-too-many-cocktail soirees, and keynote addresses. But in the spirit of adventure travel the conference also emphasizes the experience of place as well. So here are a few unique components of ATWS:
Pre Summit Adventure (PSA)
A PSA is like a mini Familiarization (FAM) trip––it's where serious work and serious fun collide. The ATWS offers PSAs at every level of physical difficulty, from leisurely train rides to death defying feats on an epic scale (Denali, anyone?!). On some PSAs, your biggest risk is burning your mouth on cocoa, on others, you risk falling off a cliff. There's something for everyone!For my PSA I went on a guided backpacking trip in the Chugach mountains, hosted by Alaska Alpine Adventures.
(As you can see, it was awesome). Other PSAs included mountain biking, kayaking fjords, hiking glaciers, bear-viewing tours, or behind-the-scenes view of the Alaska Zoo. You name it, they have it.For me, the PSA was a great way to ease into the ATWS. It provided an opportunity to get a small taste of Alaska and make closer connections with other attendees. Once the ATWS starts, you'll have shared stories to tell beyond what you do for a living. When you run into fellow PSA participants during the ATWS, you'll feel like you've run into an old friend. I personally can't think of a better "networking" strategy. Travel agent Rosalind Fulera Bigg of Suite Integrity Travel said the PSA immersed her in Alaska's landscape. Plus, it gave her a ton of social media fodder to share her enthusiasm for Alaska. (Spoiler alert: this translated to gaining more clients who resonated with her experience.) 
Day of Adventure (DOA)
Okay, it's an ill-conceived abbreviation. But the DOA is a daylong activity (vs. the PSA, which is multi-day) that kicks off ATWS. Like the PSA, participants sign up for the DOA weeks or months in advance of ATWS, and they vary in terms of physical difficulty. My DOA was a glacier cruise from Major Marine Tours. Steph did a trip to the Alyeska Ski Resort (read more about Steph experiencing Alaska on arthritis here). Let's face it, it's a lot more fun than sitting in a conference room.
Media Connect
Media Connect provides an opportunity for travel agents and all other conference attendees operators to pitch a story to media outlets including travel blogs and travel magazines—and, of course, Host Agency Reviews. If a journalist or blogger takes your story, this could mean that your travel agency could get some serious publicity love. Even if your story doesn't get picked up, creating a pitch is a great way to learn how to talk about your agency in a way that really engaged your listener. (And if you end up going to the ATWS next year, and want a little insider pitch advice, feel free to send me an email closer to the time because I have a few ideas about that 🙂 ).
Travel Agent Insights
Yes, I did have fun at the ATWS and I learned A TON about the adventure travel industry. But at the end of the day, travel agents know what's best for travel agents. So I chatted with a few travel agents about their ATWS experience, and how they utilized their time and resources at the event.
Rosalind's ATWS Rundown
When Rosalind attended her first ATWS, she had just launched her business. She attended to learn how things were done in the industry. Helping give her more general knowledge and an insider's look at the travel industry. "At first, I learned and watched," said Rosalind. "I had tools and info but didn't know enough to have those conversations with tour operators. I would sit down with them, introduce myself, and listen to their pitch without direction."
For the 2016 ATWS, Rosalind came up with a focused objectives––She set her sights on South Africa as a destination, asking targeted questions to operators regarding tour dates, length, cost, and other details specific to her clients' needs. She was able to find DMCs that catered to different budgets and found tour operators that targeted a similar client base. "Everyone says they cater to everyone, but when you talk with them face to face, you can see what they get excited about."
Strong connections with tour operators and to the destination itself led to stronger connections with clients for Rosalind––she gained 3 new clients since theATWS by posting social media updates while she was in Alaska, "I was able to speak about [Alaska] differently. They saw my pictures and decided this is what they wanted to do."
What Would You Do Differently Next Time? "Next year, I will do Media Connect. I wasn't sure what my story was, but I have a feeling by next year that I'll know. I also should have gotten on a glacier. I want to know what that was like." 
---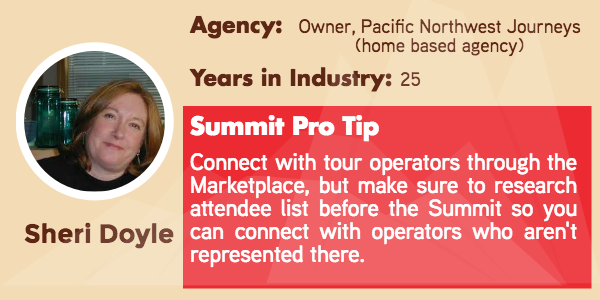 Sheri's ATWS Rundown
Sheri has been selling adventure travel probably before anyone realized it was a sector of the travel industry. Adventure travel has always been deeply rooted in her agency's business model. In 2008, Sheri expanded from selling the Pacific Northwest exclusively, setting her sights on destinations all over the world.
Anchorage was Sheri's first ATWS but she became familiar with ATTA through their AdventureConnect events in her hometown, Seattle, WA. She approached the ATWS with her sights set on talking to Alaska-based operators, but also met with companies she hadn't heard of before, or that covered destinations to areas where she sells travel. Sheri was pleased to find that the tour operators at the ATWS were interested in working with agents, "I love working with small family-run solo companies like my own . . . I would expect that next spring when it busier and I get requests for Alaska, I'll have the ability to use some connections I've made with Alaska operators."
What Would You Do Differently Next Time? "Nothing really. Maybe I'd do a little bit more prep on the attendee list and being more deliberate about finding other people beyond the marketplace."
---
Sarah's ATWS Rundown
When I contacted Sarah she was jet-setting, so we touched base via email. There, Sarah discussed the growing partnership between ATTA and the travel agent sector of the industry: "There was a larger travel agent presence at the 2016 ATWS. As a travel agent, I'm excited to see the ATTA expand this area of the industry. Agent attendance is still relatively low throughout the organization, but I feel confident that the ATTA will continue to expand its offerings and services for agents as we express more interest."
Sarah also discussed Travel Leaders partnership with ATTA: "In the last few years the ATTA has partnered with Travel Leaders and I believe that is what is helping travel agent enrollment. Travel Leaders offers an Active and Adventure Travel program which requires [those agents] to join the ATTA. They also work really hard to get us to attend ATWS and other events throughout the world sponsored by the ATTA. The people in this organization are generally like minded people, who want to do smart business and have a fun time. It's a great tribe to be a part of."
Like many of the agents, Sarah's time at the ATWS helped expand the scope of destinations she can sell to clients: "The connections I make at the Summit are great for areas that I don't sell very often. For example, my agency doesn't sell a lot of Mongolia, Nepal or Greenland, but thanks to this event, I now have great contacts for the clients who do request these areas."
---
Tom's ATWS Run Down
Tom has been in the industry for 4 years, but Donovan Travel has been in his family for 40. Over the past few years he's seen a growing demand for adventure travel among clients—especially millennials: "Clients, I've noticed over the last couple years, want something more experiential, go to areas where the tourists aren't . . . doing a trek with local guides or staying with a local family. Especially the millennials. They want to come in and get involved. They want to know what they're doing is giving back to the communities their visiting . . . to know that the money they're spending is really helping these communities."
The ATWS responds to this growing industry trend, offering ample opportunity to educate agents about the broad range of adventure travel—whether it be trying new food, or attempting to summit a mountain.
Though other conferences and trade show may help agencies get face time with large DMCs and hotels, Tom found the ATWS a unique opportunity to connect with smaller operators on a global scale, "Getting in front of more specific suppliers is great for us. It's really important—some of the smaller ones, depending on what you need, might be the only one in town."
When back at home, Tom ensures his storefront and independent travel agents can tap into these relationships and resources as well: "There were very niche operators that do really cool things. [At Donovan Travels] we'll put this info on the site so the agents can have access to it and set up a webinar with the operator. We have so many different agents and so many different types of clients. It helps [agents] sell it to the client because they're excited about it and it's a good product. That's what the Summit is really good for."
Will he go back to ATWS? Well, someone from Donovan Travels certainly will, if it doesn't work with Tom's schedule. "If you're in luxury or experiential [travel] you have stay in it . . . you want to build those relationships and keep those connections . . . and keep learning. The industry is always changing. There's always new trends in the industry."
In Closing
ATWS offers travel agents hands-on experience of a destination as well as opportunities to connect with boutique tour operators (and a few larger players)—professionals who are passionate about the industry and are (by-and-large) interested in connecting with travel agents. If you play your cards right, it can help you sell destinations you've never visited more confidently.
Making personal connections with tour operators can help you serve your clients better in the end—whether you're a hosted, independent, or storefront agent. If something goes awry for your client on the ground, you'll have the resources to connect directly with the tour operator to smooth things over. Agents can not only get a sense of an operator's business savvy, but also understand them on a more human level.
Have any thoughts or questions regarding the ATWS? Please share in the comments below!
Footnotes
Numbers found from previous ATWS reports here and here, and through ATTA's Vice President of Marketing and Communications Casey Hanisko ↩
From ATTA's 2016 Adventure Travel Development Index (ATDI) ↩