Host Agency Reviews Launches the 2022 Travel Advisor Survey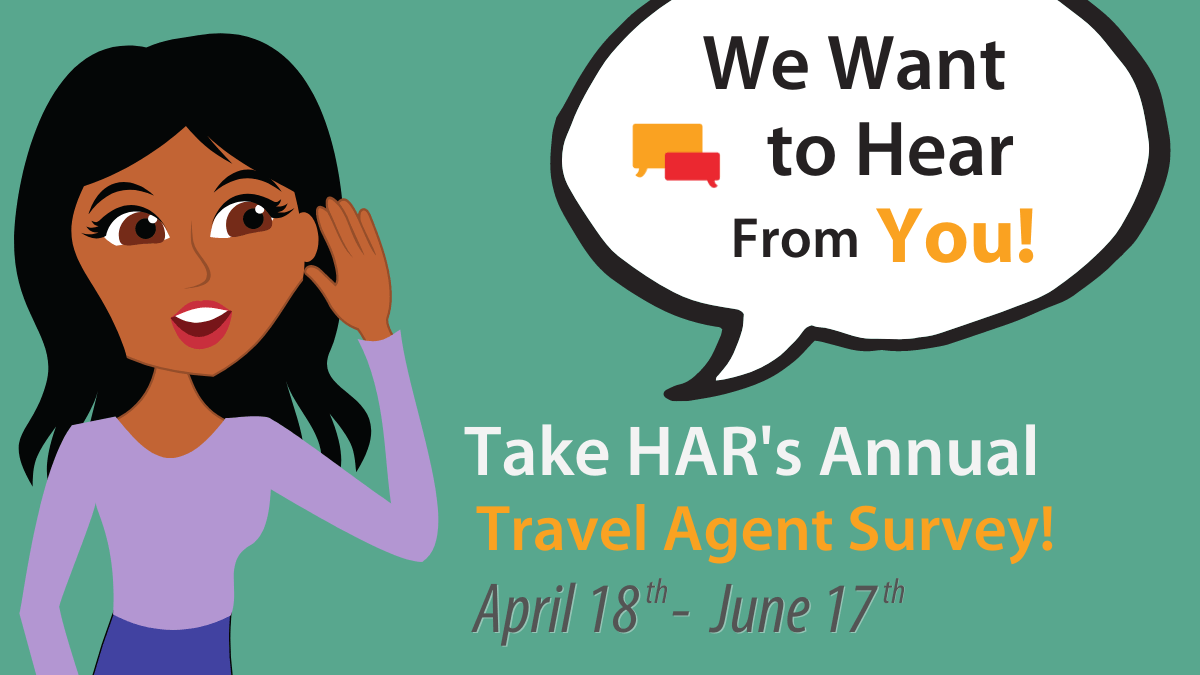 Minneapolis, April 19th, 2022 – Host Agency Reviews (HAR) launched its 2022 Travel Advisor Survey yesterday. Data from the survey will offer insights into the latest trends in travel agent income, fees, startup costs, ongoing pandemic recovery, and more. HAR will begin publishing its latest finding in the fall of 2022.
"We can't wait to publish the latest travel advisor trends to help all of us better navigate our businesses," said Stephanie Lee, Founder of Host Agency Reviews. "A big thank you to all the advisors that take the time every year to fill out the survey. This year, HAR is especially thrilled to work with so many wonderful host/supplier/association partners to ensure this survey reaches all corners of the advisor world."
HAR's 2022 survey will allow travel advisors of all types to benchmark their income and agency practices compared to current trends. It also offers insights into who's entering the industry and what travel products advisors are selling compared to prior years. This year specifically, the survey will also help mark the industry's pandemic recovery.
Host Agency Reviews has published industry-leading travel advisor data since 2017. Last year, over 1,000 advisors responded to HAR's 2021 survey. The survey's ongoing participation can be attributed to strong industry support.
"ASTA is once again delighted to support Host Agency Reviews' 2022 Annual Travel Advisor Survey. Key findings from the survey will help establish the latest agency sales and income trends among hosted travel advisors, especially crucial to our industry now as the recovery process from the pandemic and other worldwide events moves increasingly forward" said Mark Meader, Senior Vice President of Industry Affairs & Education at ASTA. "With the ever-increasing complexity of travel, the resultant impact to travel agency sales and income remains a critical factor as we collectively aim to better understand and plan for the future."
In 2022, HAR is partnering with a record number of travel organizations to help promote the survey, with industry supporters including Andavo Travel, American Society of Travel Advisors, Adventure Travel and Trade Association, Celebrity Cruise Lines, Departure Lounge, Destination Wedding University, Gifted Travel Network, Independent by Flight Centre, Independent by Liberty Travel, Incentive Connection Travel, KHM Travel Group, Los Medanos, Montecito Village Travel, NEST, NEST Plus, Nexion Travel Group, Outside Agent Link, Royal Caribbean Cruise Lines, The Travel Institute, Travel Planners International, Travel Quest Network, Travel Leaders-Market Square, Travel Leaders Network, Travel Pulse, and Uniglobe Travel.
The annual travel agent survey is currently live and will be available to advisors through June 18th, 2021. If you are interested in collaborating on our current or future surveys, please reach out to Stephanie [at] HostAgencyReviews [dot] com.
---