A Tourist in the Travel Industry: A Glossary of Travel Acronyms
I just came back with the HAR crew from the 2023 Travel Agent Forum. Hands down, my favorite part of the conference was connecting with advisors at every stage in their careers.
During the tradeshow, I had the good fortune to speak with dozens upon dozens of advisors new to the industry, and it reminded me of the first piece I ever wrote on this blog back in 2016. I remember the deer-in-headlights feeling as industry pros dropped travel acronyms and terms in casual conversation. I felt like it was a language I'd never learned. It was a language I never learned! And, quite frankly, it's a language I continue to learn.
So I want to commemorate my confusion by unearthing the blog post . . . BUT, not before including a new Glossary of Travel Acronyms for you to download! If you find yourself lost in the acronym jungle as I still sometimes do, never fear: let this glossary of travel acronyms (and a few abbreviations) below be your compass!
---
Now here's the original post below from 2016! (And, for the record, yes I still do love my in-laws seven years later).
A Tourist in the Travel Industry
(originally published in 2016)
I recently went on a vacation to Florida, venturing out of my cold midwestern corner to the beachy sunshine and historic marvels of St. Augustine. During my visit, I was 100% tourist. I wanted to see every sight, walk on every beach, and eat at every restaurant. Every time I'd learn or try one new thing, there were dozens of other curiosities waiting on the other side of the door (like wonderful oddities such as this rug below!).
Since I started working with Stephanie2 at Host Agency Reviews, I feel like a tourist in my professional life too. I'm new to the backstage hustle and bustle of the travel industry. I've been reorienting to my amazing new surroundings and familiarizing myself with the very complicated circuitry required to make this robust industry hum.


Acronym Overload in the Travel Biz!
Honestly, I've been navigating a pretty steep learning curve: Sometimes I feel like I'm lost in an acronym jungle. There's ARC and VTC and IATA (not to be mistaken for IATAN); there's GDS and ticketing desks and consolidators; there's E&O insurance; there's FAM and FIT trips; there's loads of certifications (not to be mistaken for education); there are affiliations and memberships and accreditations, from ATTA and ASTA, CLIA and TRUE . . .
Of course this is to mention nothing of the host agencies that house all of this! There are host agencies and hybrid hosts, and hosts that are franchises and hosts that are franchisees; there are consortia and cooperatives. And all of this is the just beginning!
While conventional wisdom tells us there's always an exception to the rule, it seems like in the travel industry that a hard and fast rule is the exception! There's not one path for an agent to follow. With options abound, it's easy to become overwhelmed by everything there is to navigate when entering the travel biz. (Yes, when I respond to your emails with "I hear you," I truly mean it).


Fear Not: Taking the Leap as an Independent Contractor
Venturing out as an independent contractor (IC) requires quite an investment of time and energy (and let's admit it, stress!). I've worked full-time jobs with ample freelance work on the side, tallying up 60hr + work weeks. I've also had working droughts, subsisting on intermittent freelance gigs with no safety net of a day job. Oh! How I'd feel nostalgic for the stability of a steady nine-to-five with a regular and predictable paycheck as I sifted through piles of 1099s and W2s!
Yet, so often when I hear from folks over the site, they express a deep passion for travel. It's energizing and inspiring to be a part of a community that is motivated to turn their love into their livelihood. We all know that having a passion for something doesn't mean that there's little work involved, but it sure does make the work a heckuva lot more fun along the way.
After a decade, I've finally found that balance of freedom and stability working as an IC. Now, even though work is always at my fingertips and on my mind, that's okay because I love the work that I do: Writing and travel are two huge passions of mine, and I'd be hard-pressed to give up a job where I can throw my computer into my messenger bag and fly to Florida, taking bike rides along the Atlantic in the middle of the day.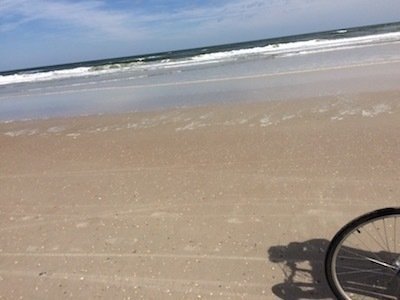 When I consider what I've found to be the most challenging as someone completely new to the industry, I keep coming back to the sheer volume of information (aka. the language of travel agencies), and the adjustments of venturing into the unknown territory of self-employment.
Though the learning curve is steep, the view is amazing once you get to the top! Joining Host Agency Reviews has left me with feelings of discovery and curiosity! So I'll be hanging around to support you on your path, and I'd love to hear about your experience too. It's a privilege to be a fellow traveler with you on your journey … and what an amazing journey it is!
We're Just Getting Our Feet Wet.
Are you new to the industry too? Share your thoughts in the comments below!
Footnotes
For the record, I love my in-laws ↩
Did I mention that Stephanie is the BEST BOSS EVER?! ↩