MLT University 2012 Session Recap: Puerto Rico
This article is one of our session recaps from MLT University 2012. You can also view recaps on the Panama and Guatemala presentations.
Cathy Dionne, a sales account manager for MLT Vacations, had a full room looking to learn more about MLT's Puerto Rico and US Virgin Islands products. We're covering the Puerto Rico portion in this article but keep an eye out for our USVI article soon!
For information on specific hotels, tours, transportation, and to book visit MLT's agent site—World Agent Direct. Don't forget agents that attended MLT U have access into special promo codes.
MLT Vacations Puerto Rico Overview
Your client calls and they want to go somewhere tropical in a few weeks but don't have a passport. Your client calls and wants a quick weekend getaway without the hassle of immigration or customs. Hellooooo Puerto Rico! You can drink the water anywhere on the island, you can use the US dollar, heck, you can even bring your own US Forever stamps to send your postcards!
Things to Know:
110 miles long, 40 miles across
4 million people on the island, 2 million of those in San Juan
Drive on right side of road, good highways
MLT Vacations focuses on 3 main areas of Puerto Rico: San Juan, the southern coast region of Porta Caribe including the city of Ponce, and the Porta del Sol region on the west coast.
Getting Around Puerto Rico
When you book Puerto Rico with MLT Vacations, make sure to check if transfers are included in the package. Currently, only 18 of the 24 hotels carried have transfers. MLT Vacations also offer private transfers and car rentals for your clients.
For your car rental clients, some of the highways may be toll roads so remind them to bring change
Other transportation options on the island include taxis, buses, and light rail. For clients using the taxis, inform them the taxis work on point-to-point fares around cruise ports and are metered elsewhere on the island. Puerto Rico city buses (Metropolitan Bus Authority—AMA) are an affordable 75 cents. Also, clients who are downtown can access the Tren Urbano light rail system, which has nearly 11 miles of track they can ride for 75 cents.
Highlighted Puerto Rico Tours with MLT Vacations
A list of all of MLT's Puerto Rico tours can be found in World Agent Direct under the "Activities + More" tab. Below, we list the tours Cathy went over in her presentation:
El Yunque Rainforest Tour
Only rainforest in the US National Forest System
25 miles of short hikes
Great option for nature lovers or clients looking for less strenuous tour
Old San Juan and Bacardi Rum Tour
Stop at historic spots in Old San Juan
Visit the Bacardi Rum factory (and get some samples!)
The Bacardi Rum factory produces 75% of the world's rum from 4 distilleries on the island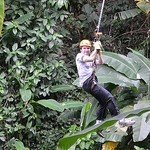 Canopy Tour
Ziplining
Minimum 8 yrs old, 45 lbs.
Ecologically friend with no hooks, bolts, or screws or anything else penetrating the trees.
Great for your adventure loving clients
Puerto Rico Overview
Around San Juan, there are a wide variety of things for your clients to try. There are plenty of golf courses, over 300 beaches, plantation tours, and for the shoppers they have 20 malls with over 100 stores in each plus 2 outlet malls. San Juan offers your clients a free hop-on/hop-off trolley to see the city.
Old San Juan is the best place to see restored Spanish colonial structures. The pastel home lined streets covered with bougainvilleas are part of the reason this is a UNESCO World Heritage Site. Cathy referred to it as a true port city with great food from all over the world in abundance. To give you an idea, in Old San Juan, there are over 100 restaurants within 1 square mile.
Porta Caribe is the semi-arid region located on the southern shores of Puerto Rico. Clients can take a dip in the thermal springs, drive along the dramatic coastline, and view colonial homes. Ponce, the second largest city on the island, is located in Porta Caribe and full of historic homes and buildings. When visiting Porta Caribe, clients will see the more traditional side of the island.
Porta del Sol is the the west coast of the island. It's known for its laid back attitude, remote beaches, whale watching, and world-class surfing. Clients wishing to get in some bio-luminescent action can grab a tour here as well.
Highlighted MLT Vacations' Puerto Rico Hotels
Here are the highlighted Puerto Rico hotels from the presentation. Please note they are all in the San Juan area and are European Plan only.
4 stars
Close to downtown and Old San Juan
One of MLT's top selling hotels
On peninsula with great views
Calm beach for families, lots of children amenities, plenty of connecting rooms for families
7 restaurants on property and many restaurants in walking distance
Spa on property
Close to downtown and Old San Juan
Long beach, great for body boarding
Cathy's favorite room is a corner room with balcony. It has 2 whole walls with floor-to-ceiling windows, patio doors, and amazing city/ocean views.
Spa and casino on property
4 stars
The place to be seen, in very trendy neighborhood that attracts both locals and tourists
Casino, restaurants and shopping area on property
Starbucks in the lobby for Starbucks addicts
Very eclectic property in terms of design. Dark wood, crystal chandelier, and purple velvet in lobby. The rooms were a complete 180 with white walls, white leather furniture, white marble floors for a very modern look.
Lots of activities
Children's program
Casino, spa, and lobby café on property
Club level rooms with private lounge, concierge, and afternoon reception
Great for groups and weddings with lots of big spaces
5 stars
Peaceful, serene property
Beach is next to a reef
Calm, private beach
Club level with added amenities
4.5 stars
One of MLT's best selling properties
Right next to tropical rain forest
60 ft. high waterslide
Beach is a mile long with hammocks all along it and cabanas to rent
2 championship golf courses on property
Kids club, kids pool, arcades
Spa and casino on property
This property does provide transfers
Not a whole lot in the area outside the resort
In Closing
MLT University is a fantastic learning opportunity for agents. It's bustling, it's well-organized, it's full of useful information for selling destinations/products to your clients. If you haven't checked it out yet, make sure you do next year. Newbies with clients in MLT's market, this is a must! With subsidized air and a jam-packed agenda, it's well worth your time.
Image Credits: Machuka, Steve Rhode, Emilio Santacoloma, Rachel Speer
If you like what you read, join 16,307 agents and sign up for our monthly newsletter for more helpful articles and drop by our home based travel agent resources page.