What's the Most Popular Vacation Destination for Americans? Their Cubicle.
Mark your calendars, folks because Jan. 28th is national PlanYour Vacation Day. If you didn't know that existed, you're not alone. I didn't either. But holy heck is this something I can get behind!
In fact, we're so excited about it that we're going to mark the day by creating a lot of fun social shareables for you to plaster all over your Facebook page. It's easy! Throughout the article you'll see multiple beauteous images! When you click on them, you'll be magically transported to Facebook to share them. Test it out on this one, below:
Easy. Right?
You may wonder why National Plan for a Vacation Day needs to be a thing. Here's why: according to the US Travel Association's Project: Time Off study, 55% of Americans let their vacations days go to waste. Ouch. That's a doozie.
This breaks down to 6.5 days on the average American worker forfeits. Imagine what kind of trip you could take in that time—especially if you had two weekends to bookend your time off!
Worse yet, when you add up all that wasted PTO, it accumulates to a staggering total of 768-capital-M-Million vacation days that went unused—a 9% increase from last year. 1That's BONKERS.
When you add up all those wasted PTO, it accumulates to a staggering total of 768-capital-M-Million vacation days that went unused— a 9% increase from last year.
Here's a little perspective on how much time this is: 768M days is 2,104,109 years—yup, over 2M YEARS. The average life expectancy in the U.S. is 78.7 years. This means Americans wasted 26,735 LIFETIMES-worth of vacation days in 2018 alone.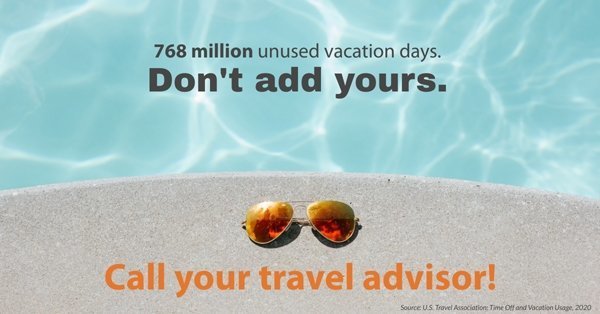 This isn't good for travel agents. It isn't good for workers. It isn't good for the travel economy. It isn't good for anyone. (Except for maybe a few employers out there who essentially get paid by their worker bees). But our goal is to get people to clock out and spend their PTO sunning themselves like happy otters on a remote beach.
Here's the good news. The U.S. Travel Association's also provided insights on two key issues: what motivates American workers to travel, and why they're hesitant to use all their time off.


What Inspires American Workers to Clock Out?
The study found that on the average, American workers "donated" $571 of free work time to their employer. When you add it all up, it amounts to 65.5 Billion in unused PTO. Sad Face.
Not only do Americans waste a significant amount of vacation days, but of the PTO they do use, little of it is spent traveling. The average American uses 17.4 vacation days per year, but they only spend 9 of those days traveling. If they're not frittering away vacation time in their cubicle basking under the bright white rays of fluorescent lighting, they may be wasting their precious time off in their living room. 
The average American uses 17.4 vacation days per year, but they only spend 9 of those days traveling.
But the good news for travel advisors is that the desire to travel is strong. Even though 46% of American workers admit to not planning a vacation, 83% of American workers want to use their time off to travel.
Here's a few insights on what inspires American workers to clock out and pack up:
Avoiding burnout, 28%
Friends or family asking you to come on a trip with them, 23% (Psst! This is the #1 reason for Millennials!)
Holiday, 12%
This list is just the crib notes! The study dives deeper into what motivates travelers according to demographic and region! So if you want to customize your marketing initiative to address your specific clientele's demographic, check out this fact sheet!


Barriers to Travel: Why do Americans waste paid vacation days?
In addition to getting a pulse on motivation to travel, their previous year's study included data on why American insist on staying shackled to their cubicle.2
Here the 4 top barriers to taking a vacation that Americans reported. Each barrier also includes a nifty marketing angle for travel advisors: 
1. The Barrier: Work Culture 
All work and no play makes Jack a dull boy. But a rigorous work culture is one of the top reasons Americans decided to stay home instead of packing their bags. Americans' number one barrier to taking a vacation was fear of appearing replaceable at work. 
The Travel Agent Marketing Solution: Vacation Is the Road to Promotion :
Fun fact: the study indicated that those who took vacations were more likely to be rewarded with a promotion. According to the survey, "More than half (52%) of mega-travelers reported receiving a promotion in the last two years compared to Americans who use some (44%) or little to none (44%) of their time to travel."


2. The Barrier: Work-a-holism
Workload was the #2 barrier to taking a vacation. Americans don't want to leave work behind (travel agents, does this sound familiar to you?). It doesn't matter if you give them data about how much happier their vacationing counterparts are! 
But there's a compromise for worker who insist on working every moment . . .  
The Travel Agent Marketing Solution: Workcations 
If a client can't leave work, maybe they can bring work along with them (if they must). Workcations—where travelers work their regular hours while on the road—can help ease their work abandonment issues. Do you have packages, tours, destinations that can accommodate work on the road? Perhaps an itinerary with evening activities? Hotels that will keep workaholics connected in case their work sends an SOS signal? 
The younger the traveller, the more interested they are in taking work on the road. 39% of Millennials are interested in workcations compared to 28% Gen Xers and 18% Baby boomers. 


3. The Barrier: Logistical Hassle of Traveling
"The Logistical Hassles of Traveling" ranked 4th. This response had a three-way tie with "My Pet" and "Concerns about security and safety while traveling." 
When it comes to planning, the early bird gets first in line at the TSA (or something like that). The study states that planners are "more likely than non-planners to use all or most of their time off to travel (33% to 18%), whereas non-planners are far more likely than planners to use little or none of their time for travel (44% to 16%)."


The Travel Agent Marketing Angle: It's Obvious . . . HIRE A TRAVEL AGENT.
There may not be much a travel agent can do about travelers' pets (any agents out there also do doggie daycare as a side hustle?), but they sure as heck can take care of the planning piece. After all, a well-planned trip will help travelers feel safe and secure when they're on the road or in the air. 
The irony is that almost half of Americans do not plan ahead! (I am sitting here raising my hand.) And you know what, I can't blame Americans who don't plan ahead, because travelers spend a totally ludicrous amount of time trying to put together their own travel itineraries.
It's overwhelming. This is an opportunity for travel agents to market to the plan-o-phobes (technical term) with last-minute trip ideas and whittling away client planning and research time to zilch. 
But there are plenty-o-other reasons your clients will love you for encouraging them to get out of the house! Below are a few other facts you can use in your travel marketing on social media or website:


Additional Travel Agent Marketing Angles
There's all sorts of ways to encourage clients to travel. Below, we have a few additional marketing angles you can consider to entice your clients to pack up their bags and go!


1. Travel Agent Marketing Angle: Taking a vacation helps the economy
It turns out that these 768M days spent perishing in a cubicle cost a pretty penny:
Skipping your vacation hurts the economy to the tune of (wait for it) $151 BILLION Dollars. That is over 400 times the net worth of Beyoncé and over 60% of Finland's GDP.3 
The days off could have created 2M jobs. Whoa. For a little perspective, this would eliminate 30.2% of total unemployment in the United States.4 
The moral of the story? Ask not what your vacation can do for you. Ask what your vacation can do for your country. 


2. Travel Agent Marketing Angle: Vacations make you happier 
It seems obvious to travel agents that taking a vacation is restorative, and that downtime will lead to higher productivity in the office.
The "mega-travelers"—those who use the majority of their paid vacation for travel—are happier than those who stay home. In fact they are 28% happier than those who don't use their vacation days (76% compared to 48%). That's a lot of happiness to sacrifice! These mega-travelers are happier in every way too, from satisfaction with their company, their job, their personal relationships, their well being, and how they spent their paid time off. 
We've got some work to do, travel advisors! But the good news is, America is basically one bit hot lead just waiting and wanting to travel. Maybe they just don't know it yet. So you're going to remind them. This brings me to . . .  


Travel Agent Marketing Images to for National Plan Your Vacation Day
Wow, we sure do love data. But what we love even more is to make data into fun marketing memes that will inspire your clients to pick up the phone and call you. In order to share these memes—or ANY image in this article!—all you need to do is click on the image to share it!
You are free to do whatever you'd like with these images. Steal them. Repurpose them. Slap your brand on them. They're yours.
The best part is that, even though National Plan Your Vacation Day falls on Jan. 28th, you can use these memes year-long. Heck! Maybe for all eternity (or at least until American workers wise up and finally use their hard-earned PTO!!!!)
I know. You don't need stats to tell you that travel makes people happy. But maybe your clients do! Let them know that you're around and available to help make them happier, to boost the economy, and to put more of their hard-earned money back into their pockets (or toward trips deposits!) 
Do you have any tips for reaching clients and getting them out of the house? Post below in the comments!
---
Footnotes