MENTORING - The Circle of Experience
A good friend will go to jail with you. A true friend will go to jail with you and say "Dang! That was FUN!" At least that's what my grandpa always said, and he's the guy that taught me what I know about wisdom and tomatoes. This is why mentors should be "all in." Offering more than a static list of tasks, they offer the insights to help you mitigate risk and maximize returns. That's right; they're willing and able to grow your business with you, and endure all of the ups and downs along the way, with you. We like to think this is one of the reasons OutsideAgents.com's agent education and mentoring programs have won major awards every year for a decade.
To be clear, our mentors are not trying to get you into trouble with Johnny Law. They are, though, there for you all the way. Business isn't a straight line to the top. Some decisions you make will work out better than others. A good mentor knows this and a great mentor lives it. They will help you navigate the challenges of business. When you stumble (as we all do), they'll be there to pick you up, brush you off, and get you back on your feet. They'll show you all you learned from a well-intentioned stumble and how you'll grow from it. They'll reinforce the idea that, when you are doing what you want to do, as best as you can do it, you can still end up in a place other than the one you wanted to be in. With a great mentor, you'll know that it's not how you fall but, rather, how you rise and rise again.
We'd be hard-pressed to find a top travel industry professional that has not been impacted by mentorship and has impacted someone by mentoring, whether they knew it or not. Be it through casual interactions with more experienced peers, travel agent social media groups, or formal mentoring programs, the experiences, knowledge, authenticity, and wisdom they share is as invaluable as it is unpredictable. They don't have all the answers, though; nobody does. No mentor should have a generic list of the next steps for agents. What they do have, though, is experience, and the willingness to think things through with you. They've been in your shoes and have helped thousands of other agents. A great mentor won't take you to the next level; they'll help you discover your next level and help you identify ways to get there.
Developing this relationship benefits both mentors and mentees as they gain lifelong learning, expand their professional networks, apply what they know in new and different ways, and develop more fulfilling careers. Mentors learn daily as they work with agents one-on-one every day, just as their mentees learn daily by interacting with their mentors and peers. It's a cycle of recurring benefits from which you can accelerate your business in ways you hadn't yet thought of. It's a circle of prosperity and a ring of reciprocity.
That's right, mentoring is a cyclical process, with the teacher learning and the student teaching. Without this peer-to-peer feedback loop, mentoring becomes nothing more than conversational lecturing with students waiting to hear the bell ring.
That's why we need more than traditional mentoring. Sure, free one-on-one mentoring from professional mentors with at least a decade of front-line experience as successful home-based agency owners is a good thing. In fact, it helped propel OutsideAgents.com into the top 20 agencies in America. The great thing is that we're taking it to the next level with the industry's first collaborative experiential agent development and learning program. It's a MentoRING we like to call the Prosper Circle.
The word mentor comes from Greek with Sanskrit influences. From the Greek, we find that Mentos means "intent, purpose, spirit, passion" and from its Sanskrit counterpart, we find it means "one who thinks with others." So, together, we see that a mentor is "one who thinks with others with intent, purpose, and passion."
PEERS AS MENTORS
Working with experts that have walked in your shoes is a huge benefit. Engaging with peers walking the same road as you is a huge benefit too. Doing both at the same time? Priceless. When expertise meets experience and enthusiasm, magic happens. That's why expert lead, peer-driven, collaborative mentoring is so important; it allows us to create something that's greater than the sum of its parts.
KNOWLEDGE and GROWTH
In addition to providing practical knowledge, training, and quality assurance, collaborative mentoring empowers newbies from day one with encouragement, moral support, and practical knowledge. Agents with some experience, and even veterans, though, can benefit even more as they learn new techniques and share what they've learned through the school of hard knocks. Through peer-to-peer feedback and interaction, the mentee and the mentor gain insights to allow them to focus on the most rewarding opportunities to make more money as a travel agent while saving them time and frustration. Drawing from their own experience and what they've learned from those they teach, mentors collaborate with mentees as peers to explore the most effective ways to become even more successful. By sharing something as simple as a keyboard shortcut, guidance on how to best present a proposal, or even where to find an unpublished price, mentors help newcomers and seasoned agents acclimate, accelerate, and build confidence. For veterans, mentoring helps to calibrate their confidence, identify areas for improvement, and maximize efficiencies. More importantly, it gives them the opportunity to revisit and rethink the value and validity of their tricks, tips, and ideas as they get input on them. This is spontaneous gold that agents would likely not find on their own.
TRUSTED ALLIES and CONNECTED CHEERLEADERS
Mentors and peers provide support and encouragement when we face difficult challenges or roadblocks by reminding us of our strengths, calibrating our confidence, and providing motivation to continue. They'll help you decide which path to take by helping you decide to do it yourself, get some help, or have a pro do it. Typically, mentors have more industry experience and a large professional network, which allows them to introduce new opportunities, resources, and people. When a mentor is at his or her best, he or she has the mentee's best interests in mind and provides honest, accurate, and prudent guidance. As experiences and information are shared, a trusting relationship grows to allow both mentor and mentee to tell each other the ugly truth and be authentically encouraging as they do it. It's about trusting and being trusted, plain and simple. After all, a great mentoring relationship is, at its heart, about believing in each other so much that you each know that the other wants nothing more than the other to be a huge success.
GOAL-SETTING and ACCOUNTABILITY
Great mentors know that setting goals is as important as it is hard. After all, they've done it themselves back when they were agents, and they've helped hundreds of agents do it since then. They can help you set goals and stick to them so you make more money, save more time, and get more out of your business life.
It is easier for mentees to focus their efforts and measure progress when mentors offer their objective perspective and follow-up to ensure accountability. This way, the mentor and mentee stay focused on their goals, why they set them, and the best ways to achieve them. In the same way a gym membership motivates people to show up, so does the commitment to your mentor and peers drive you to do your best and keep trying in a "judgment-free zone."
ROLE MODELS and AUTHENTIC CONSTRUCTIVE FEEDBACK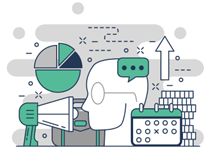 When a trusting relationship is established, honest feedback and authenticity in constructive criticism can flow more easily, accelerating professional growth and business development. In addition to setting professional expectations, mentors can assist in defining best practices, workarounds, hacks, and boosts for your business. These examples can help mentees establish productive work habits, which enables focus and improved business performance.
It's important to remember that mentoring is a two-way street. Both mentor and mentee can offer each other fresh ideas and different perspectives. Learning is always a two-way street as the mentor revisits their wisdom and expands on it for the benefit of their mentees.
BOTTOM LINE
Business involves a constant flow of calculated risk-taking. So, put yourself out there, ask lots of questions, and, most importantly, stay curious so you can hedge your bet in your favor. Remember, mentors share their time and insight because they care. Like many of your peers, they're interested in helping others grow and are enthusiastic about establishing more authentic personal connections. When you find a great mentor, invest your time and energy in working with them. When you find mentoring with collaborative peer interaction like we do at OutsideAgents.com, jump on it. It will pay off in spades, or at least cover your bail.