Nexion Launches New Tagline, "Be NEX" Marketing Campaign
Nexion, the travel industry's premier host travel agency, has introduced a new tagline and marketing campaign, representing its commitment of creating a home for independent U.S.-based travel professionals of all experience levels, including seasoned agents ready to experience a more-fulfilling level of success, as well as newcomers looking for a strong foundation. The new tagline, "The Travel Professional's Host Agency" is integrated in Nexion's logo.
The Travel Professional's Host Agency
"'The Travel Professional's Host Agency' aptly captures what Nexion can offer individuals who are serious about the next crucial step for their careers in travel," said Nexion President, Jackie Friedman, CTC, CTIE. "In addition, we are recognized as a leader in the host-agency marketplace and have an outstanding reputation with supplier partners and agents – who are proud to be part of Nexion. So, it is high time we promote and celebrate that recognition and success."
Be NEX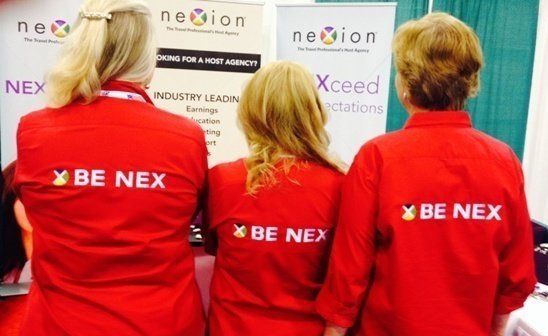 Coinciding with the addition of the updated tagline, Nexion has also introduced its new "Be NEX" marketing campaign. The campaign captures Nexion's five pillars of success and will be featured in a variety of print, digital and Web-based marketing channels.
Nexion's five pillars of success include:
NEXceed Earning Expectations | Earn More
Nexion agents will earn what a passionate travel professional should earn: top-tier commissions with more than 140 air, cruise, tour and other suppliers.
NEXcite Your Clients | Show Your Value
Nexion provides its agents with the marketing muscle to consistently showcase the latest travel offers, keeping their agencies top-of-mind throughout the year.
NEXpand Your Network | Make Connections
Through Nexion, agents will have the opportunity to work with some of the most supportive staff, agents and suppliers in the industry.
NEXplore New Opportunities | Learn & Grow
Nexion provides its agents with the resources, tools and guidance to help them develop professionally and personally.
NEXperience a Better Way | Work Smarter
Nexion supports its agents with technology, tools, and other resources that help manage their business and simplify the booking process.
"The feedback I receive from suppliers and competitors is that Nexion agents exude professionalism and take their work very seriously. Our members engage in all of the tools, coaching and educational opportunities Nexion has to offer," said Friedman. "Be NEX represents our network of NEXceptional professionals. We want all of our more than 3,300 agents, and future agents, to have a Be NEX state of mind that includes a sense of belonging and passion for the industry. With that mindset, and incorporation of our five pillars of success, Nexion agents can more easily reach their full earning potential."
Learn More about Nexion
Travel professionals interested in learning how to Be NEX and succeed as a professional business owner, backed by Nexion's many great benefits, can find more info by visiting www.nexion.com. Interested travel professionals may also call 800-747-6813 or email [email protected] to reach their full earning potential.