MTravel Reveals "Secrets to Your Success" Conference
Top 5 Host Agency Partners with Pleasant Holidays and Secrets Puerto Los Cabos Resort
By Emily Peters Contributing Writer
After a six-year hiatus exploring other corners of the world, Montrose Travel's leading host agency MTravel™ will bring its independent travel professionals back to Mexico for its 9th Annual Educational Conference. Designed as an immersive professional development experience for independent travel agency owners, the 5-day event will take place at September 7–11, 2017 at Secrets Puerto Los Cabos Golf and Spa Resort.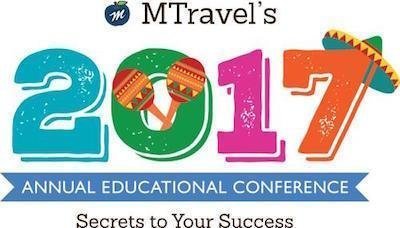 Why Should Agents Attend a Travel Professional Educational Conference? With so many seminars, conferences, workshops and bootcamps available to small business owners, it can be difficult to decide where to invest your time and money as a travel agent. Yet MTravel's conference focuses not only on smart business practices, but on key elements that are unique to what an independent travel agent goes through on a daily basis.
"Our agent-centric conference is invaluable to anyone who takes themselves seriously as a travel professional," said Andi Mysza, President of MTravel. "They're able to pursue the highest quality professional development and bond with MTravel staff, fellow agents and suppliers who believe in their cause and are motivated to help them succeed in this industry."
Agent Involvement Key to Successful Conference Experiences With last year's 2016 Caribbean cruise as MTravel's highest-rated conference to date, the bar was raised for the 2017 conference. To keep agents engaged, MTravel agents were able to select their own conference location as well as their desired training topics. "Our conference theme is 'Secrets to Your Success', and the true secret behind our 45 years of hosting success has been listening to what our agents need," said Mysza. "Pairing their input with our internal expertise always yields the best possible events to help their agencies thrive."
Fresh faces are also expected at the conference this year, as MTravel has opened conference registration to its independent contractors under Allure Travel by CTM and Travizon Travel. The two new brands were absorbed into the MTravel hosting family as part of Australia-based Corporate Travel Management's acquisition of Montrose Travel in January earlier this year.
An Adults-Only, All-Inclusive, Agent-Focused Affair By partnering with Pleasant Holidays and Secrets Resorts, all conference attendees will enjoy 4-nights accommodation in ocean view rooms at Secrets' adults-only, all-suites upscale resort in Los Cabos, Mexico. The conference package also includes round-trip transfers, all breakfasts, lunches and dinners, beverages, high-speed Internet and access to Secrets' outdoor pools and fitness center so participants can get the full resort experience.
The well-stocked professional development agenda will include interactive peer and supplier panels, top-voted academic sessions, agent-staff-supplier networking mixers and free time to explore Cabo. A private welcome reception and farewell dinner will open and close the event, with a mid-conference site inspection and dinner at the elegant, four diamond Dreams Los Cabos Resort and Spa in nearby Cabo San Lucas.
Extended Stay in Mexico with Exclusive Post-Conference FAM in Cabo San Lucas To showcase more of Baja California's southern peninsula, the Top 5 host will bring it's post-conference conference attendees on an exclusive 2-night FAM trip to Hotel Riu Palace Cabo San Lucas. The luxury property will treat FAM attendees to a more tranquil corner of the popular Cabo area with surrounding gardens, Renova Spa wellness centre and views of the Sea of Cortez.
"As we get closer to the event, optional group excursions will also be available for the ultimate first-hand experience in Cabo," said Mysza. "We want our agents to bring home the flavor of the area to their clients and get them excited about Mexico."
2017 Educational Conference Registration Open Now Registration for MTravel's 2017 Annual Educational Conference is officially open for any current affiliate of MTravel's hosting program. Interested agents can learn more by visiting MTravel's website at www.MTravel.com or calling 1-800-870-5799 for details. Early-bird discounts are available for those who register and deposit before January 20, 2017.