KHM Travel Group's Record-Setting 2017: A Half-Year in Review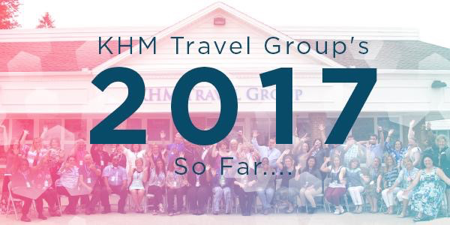 Just over half-way through 2017, KHM Travel Group's travel agents and team members have collectively had another record-setting year.
The year started off busy, with major updates to the host agency's myTravelCRM and Agent Basics online educational modules in January. At the end of the month, the KHM Travel Group family also gathered to celebrate 2016 achievements on the Crystal Conference and Awards on the Carnival Conquest.
The following months were equally fast-paced, with two New Agent Boot Camps, plus Seminars at Sea, industry events and FAM trips. Our Agent Development team also held the first of our Agent-to-Agent webinar series designed to help agents overcome obstacles, learn best practices and interact with producing agents.
Top travel suppliers also recognized KHM Travel early in the year, for the previous year's sales.
In March, KHM Travel Group received the National Crystal Award with Apple Vacations, and the tour operator also announced that we were the number one host agency nationwide for sales with Apple!
More excitement came at the Travel Leaders Network Conference in May, where members of our staff were on hand to receive the Chairman's Host Award for U.S Agency Affiliates from our consortium.
KHM Travel Group was in the headlines again in June, when we were included on Travel Weekly's Power List for the second year in a row. All of our agents should be very proud to have moved up five spots this year, to #53!
Finally, in June we were honored to win the Carnival Excellence Award for Outstanding Travel Partner — Host Agency. This award is especially unique as it is based, not on sales, but on our marketing techniques, sales strategies and brand advocacy with Carnival. We look forward to accepting this award later in August.
An increase in sales naturally leads to an increase in commissions! Overall, KHM Travel Agents earned a record $8 million during the first seven months of 2017. In July alone, agents received a total of $1,141,000 in commissions, which is the highest for this year.
In addition to sales growth, KHM Travel Group has also continued to develop our industry connections to benefit our entire agent base. Building these relationships kept our executive team very busy the first half of the year!
As a guest of Princess Cruises, President and CEO Rick Zimmerman got a first-hand look at impact technology is having on the travel industry at the Consumer Electronics Show in Las Vegas in January. He ventured back to Vegas in March, to join a group of our agents for The Mark Travel Corporation's immersive Las Vegas Experience.
Lisa Morris, our Vice President of Agent Operations, had the opportunity to experience a first with Norwegian Cruise Line in May. On board the Sky with the Norwegian President's Club, she was part of the cruise line's inaugural sailing to Cuba.
KHM Travel Group was part of another important landmark this summer, as our agents, along with KHM Travel staff were the first to be invited to the first travel agent retreat held at The Mark Travel Corporation's headquarters in Milwaukee, Wisconsin. This unique opportunity allowed several top-producing agents the chance to truly immerse themselves in Mark Travel's company culture and advantages they offer travel agents.
Congratulations to all of our travel agents and team members on everything that's been achieved so far in 2017. We look forward to an equally productive and rewarding second half of the year!
KHM Travel Group is one of the nation's leading host agencies, providing education, support, tools, and resources for independent travel agents around the country. To learn how KHM Travel Group can help you build a fun, thriving travel agency from home, call 1-888-611-1220 or visit khmtravel.com.