How Travel Advisors Can Make the Most of a Cruise Ship Inspection
Ahoy there, captain! (Admiral?). At a past ASTA conference (you can find fun events like this here!), I had the opportunity to do a cruise ship inspection. How does a travel agent make the most of their time on a ship inspection? Well, that's what I'm here to chat about. But first (because we love multi-media) a little video previous from a recent Friday 15 when Steph chatted about cruise ship inspections!
You can download the form Steph shows below!


A Travel Agent Cruise Ship Inspection Checklist
This free download has all the juicy details on how to make the most of your cruise ship inspection. So if you do nothing else, download this resource so you can take it on your next ship inspection to help you collect your thoughts!




First on the Menu: Cruise Ship Inspections, Two Ways
There are two different ways to do cruise ship inspections, and every agent will have different preferences. The two main ship inspection categories are escorted or unescorted (what I like to refer as free range).
Here's some of the qualities of the different kind of cruise ship inspections:
unEscorted: you are at the Helm
You go at your own pace
You set your own strategy and see what you want to see
You can sneak onto their zip lines or hop in their buffet lines
You can chat with cruisers who are boarding the ship and get their firsthand experience
You need to find your own way around
Escorted: The BDM (Business development manager) Is at the Helm
Good for those who lack an inner compass. But even if you are Magellan, with a guided inspection, you can spend more time paying attention to the ship than figuring out your route
Could be good if you're newer to cruise ship inspections and aren't exactly sure what you're looking for
You can ask questions as you go and get immediate answers
You aren't in charge of where you go and what you see
You can't go at your own pace
You'll likely be with a group, so might have to jostle to get good videos and photos
Now that I've done both kinds of ship inspections, I'm going to go on record and say that I prefer a guided inspection. On a guided inspection, you can get questions answered from the BDM as you go. Also, if you're a free spirit, you can always stray and poke around and meet up with your travel agent shipmates later if you really want to. Not only that, but agents on an unescorted tour will be rushing to all the "hot spot" suites to get sweet pics before the cruisers check in, so a self-guided inspection doesn't necessarily eliminate crowds.
This brings me to another point: Try to do an inspection with a smaller group. If you go with a busload of 50+ agents (yikes, I did that) you'll have a very different experience than if you're among a group of 10-12 (I prefer this).
Should I Stay or Should I Go? What Cruise Ships Inspections Should I Sign up for?
What cruise ship inspection should you sign up for? It's really tempting to choose the cruise line with the fanciest food or most impressive zip line and call it a day. But your time is precious, so you want to make sure the cruise ship inspection will be worth your dime and your time.
"You want to make sure the cruise ship inspection will be worth your dime and your time."
Putting on your client goggles will help you choose what cruise ship inspection to go on. Does the cruise line offer something your clients are looking for? Ask yourself these questions to see if it the ship inspection might be a good fit:
Does it align with my niche in some way?
Does it include a new itinerary I'm excited about?
Will it help give me a comparison for ships that I frequently sell?
Is it a new ship or a ship with a new feature?
Is it at a port I've never visited before?
Do I have a client who is going or wants to go on this ship?
If you're going to a conference and trying to narrow down what cruise ship inspections to sign up for, aim for the ones that you answer yes to the most times!
You Don't Have to Wait for a Conference to Go on a Cruise Ship Inspection
You don't have to wait for a cruise-related conference to do a ship inspection. If you live near a port, you can take advantage of your locale and keep your eyes open for opportunities. If you don't live near a port, you can reach out to do a ship inspection if you're traveling close to one for business or leisure (is there such thing as non work-related travel when you're an agent?).
When you hit up those cruise conferences, sign up for your ship inspections ASAP, and squeeze in as many as you can or care to! Going to other travel industry events? If it's close to a port—and since it seems like half of US-based travel events are in Fort Lauderdale, you'll have ample opportunity—you can try to extend your visit a day to fit in a cruise ship inspection.
The 5-Point Guide to a Cruise Ship Inspection
I put my head together with travel agent Ron Harshman, of Harshman Travel and he offered insightful and critical thoughts on how to really take advantage of a ship inspection. Credit where it's due! When you see Ron next, buy that man a beer!
We're about to take a deep dive into cruise ship inspections. Get ready to dig into the particulars of what to look for during your inspection when it comes to the port, lodging, ship layout, dining, and attractions.
1. The Cruise Ship Inspection Starts at the Port:
Embarkation can set the tone for the trip. So even though your inspection may not have "officially" begun, it's good to take note. For example, on my most recent cruise ship inspection, the port had play areas for kids. This was not the case on of an earlier cruise ship inspection I attended, even though that specific ship was touted as family-friendly.
I have toddler so I took note of this: Is he going to sit patiently in a seat for over an hour while we wait to board, or is he going to channel his inner mountain goat and try to climb the rafters/water fountain/ chairs/ me?
"Embarkation is a big thing for me because most cruise ship inspections take place in between cruises. Is it like herding cattle? Are [cruisers] left outside in the heat? How are people being treated? Sometimes you feel like you need a vacation by the time you get on the ship!"
Ron summed it up when he said, "[Embarkation] is a big thing for me because most cruise ship inspections take place in between cruises . . . It's very easy to observe how the passengers are being treated. Is it like cattle herding? Are [cruisers] left outside in the heat? How is the embarking process? How are people treated? How are the port personnel? Are they polite? How do they minimize the stress of the onboarding process? Sometimes, you feel like need a vacation by the time you get onto the ship!"
Here's a few other details to pay attention to at the port:
How accessible is the port from the nearest airport?
How is parking and getting the luggage into the port and onto the ship?
How are the lines and how long are people waiting?
What is the overall attitude of the cruisers? Do they seems stressed and rushed, or do they seem relaxed?
How are staff interacting with cruisers?
Is there enough waiting area? With seating? Are there enough restrooms?
Approximately how long does it take for cruisers to board from stepping out of their car and embarking the ship?
2. Lodging: What to Look for During Your Cruise Ship Inspection
If you're on an unescorted ship inspection, you'll want to hustle over to check out the staterooms and suites before the cruisers begin to file in. (If you're on an escorted inspection, your BDMs will probably do the same thing.)
Most cruise lines have ample photos and specs online, offering a general overview and specs. What I learned from my own cruise ship inspections is that many of my photos simply reinvented the wheel. So while it's GREAT to take tons of pics (and videos), take a moment to consider what you want your ship inspection photos to communicate that's not already on the internet/ supplier brochure/ itinerary building program, etc.
Consider what you want your ship inspection photos will communicate that's not already on the internet or supplier brochure.
How is the room laid out? Feng Shui goes a long way when there's little room to work with. This was key for Ron during a cruise ship inspection; "Some [staterooms] seem more spacious depending on how they're laid out . . . even though they're generally the same square footage. It can make a huge difference."
This is a great example of the value of a ship inspection that can't be found on the internet. In order to get a feel for the room, check out:
Can you stow luggage under a bed?
Is there a pullout to help maximize space during the day?
Does the bathroom have a split sink/shower to get more mileage out of a morning routine?
How high are the ceilings?
Are there rooms with options for 3+ sleepers?
Are there murphy beds (particularly for rooms with 3+occupants)
Are there conjoined rooms?
What is the natural light/ artificial light situation?
Are balconies spacious? Can balconies of adjacent rooms open into one another (for groups)?
Does the closet have a slide door or does it open into the room?
Can you hear your neighbors?
How spacious does it feel? (Can you get out of bed without being pinned between the mattress and a wall?)
Is the bed by the door or by the balcony?
If there's an obstructed balcony view, how limited is the view
There's no "right" answer to any of these questions, but taking the time to get a sense of how a room feels can go a long way when determining if a client will like it.
This information will help you evaluate things like, "x ship staterooms are larger, but y ship has a more user friendly layout, so the additional space isn't worth the extra cost." Or, "The obstructed view in 134 stateroom isn't limiting but is nominally more expensive than an interior room."
Will a brochure do that? Unlikely.


3. The Ship Layout: What to Look For on Your Cruise Ship Inspection
Most cruisers are going to spend most, if not all, of their waking hours outside their room. Since ships are so large, it's important to take stock of how easy the vessel is to navigate. Do you need a compass to get from your stateroom to the dining room? I hope not.
But here's a few things to look for in the overall layout of the ship:
Are there any assistive navigational tools/ devices on the ship to help you find where you're going?
How wide are the halls? Are they easily navigable?
Are there enough elevators at different parts of the ship?
How is the layout of the stairs? Are they easy to navigate (sometimes the stairs might feel too close together, etc.)
Are there any tricks to see if the direction you're going is toward the stem, aft, aport or astarboard (i.e. on a Disney ship, the staterooms on the starboard and portside have different room number decals, and the design on the carpet indicates whether your walking aft or astern).
Where are smoking-designated (or non-smoking) areas?
What about the pool area? Where are the staff located around the pools? (embarkation is a great time to check out pool layout, particularly if cruisers aren't able to check into their rooms).
How are the entertainment areas such as the casino, theaters, and spas?


4. Cruise Dining: What to Look For on Your Cruise Ship Inspection
On a ship inspection, there is such thing as a free lunch. If a cruise ship has amazing and memorable food, I'd be the client who could easily overlook a cramped stateroom.
Eating a meal on a cruise ship is not only a chance to see how their food tastes, but also to see how accommodating the staff is. If your client has a dietary restriction, pretend you have it too to see how they accommodate you.
Do they have vegetarian or gluten free options? If you tell them you're vegan, can they adapt your meal? Are they responsive if you want to send something back? Or, if you're my like my late grandfather, can you ask the crew the scare up a scoop of chocolate ice cream for dessert because that is literally the only thing you will ever eat for dessert, even if they put the fanciest desert delectable right in front of you?
I'm going to break down the dining portion into two sections, food and service. I'll start with food, but again remember that some of these don't have a "right answer." It's just intended to help give your clients an accurate idea of what to expect.
Food, glorious food:
Menu options: Is there variety? Can they adapt to your dietary restrictions?
Taste & visual appeal: Does the food look and taste good? Does it reflect its description on the menu?
Is everything cooked to your liking?
What's your first reaction when you take a bite?
Is there variety?
How are the portion sizes?
Is there something that you leave wanting to eat again? (Bonus points if you're still thinking about the menu item three days or more later).
How does the food compare with similar cruise lines?
Dining layout and service:
The dining area layout: Are there there large tables for groups or do they accommodate more intimate dining as well?
Is the area noisy?
Are you comfortable? Excited to be there? If there are others, do they seem to be having a similar experience to you and receiving a similar quality of service?
Staff morale: If staff are treated well, they will treat you well. Are the staff just trying to keep you happy enough not to complain or they are trying to create a memorable experience for you?
Is staff responsive to your needs?
Are the bathrooms clean and close by?
Since you'll likely eat in their main dining area, you'll want to see what other options they have available for dining as well. Do they have a range of options and food varieties? If you see a buffet service going, how is the foot traffic managed? When you embark the ship to inspect it, it might be a great opportunity to see some of those areas at their busiest!


Which dining services are included in base price?
As you probably know, not all dining options are included in the cost of the cruise. An inspection is a good opportunity to give you an edge on informing your clients about the different dining options and the cost associated. During you inspection you can ask:
Which dining options are included in the base price?
Which dining options are not included?
How much (approximately) would it cost to eat there?
How far in advance do clients need to make a reservation for different restaurants?
Which dining options do you think your clients will want to take advantage of?
Equipping yourself with this information will help you sell the cruise to your client and anticipate their needs. At the end of the day, clients are going to spend a lot of time eating cruise food, so you want them to love it!


5. Ship Vibe: What to Look For on Your Cruise Ship Inspection
We covered some of this in different areas, but it's also important to pay attention to the overall vibe to get a sense of the cruise culture of a ship.
What is the overall demographic of the cruisers? Younger? Older? Families? Active? Do they reflect your clients?
What's the vibe? Does the ship culture seem to cater more toward relaxation? Adventure and activity? Nightlife and entertainment?
How is the morale among cruisers? Do they seem to be having a good time or do they appear to be stressed out?
How does the staff engage with you when you ask a question? Asking directions somewhere is always a good test. Do they tell you where to go? Do they take you there? Do they point at the nearest legend and call it a day?
Does the ship market themselves or push their reputation for anything in particular? If a ship brands itself as having best entertainment or providing culinary excellence, does it live up its hype?
PHEW! That was a doozie! This is a lot of stuff to consider, but soon it will become second nature.


Time to Disembark from this Article
Okay, you are truly amazingly prepared for your next cruise ship inspection! But to sweeten the deal and to reward you for your patience in reading this whole stinkin' article, we have saved the best for last:
Dessert.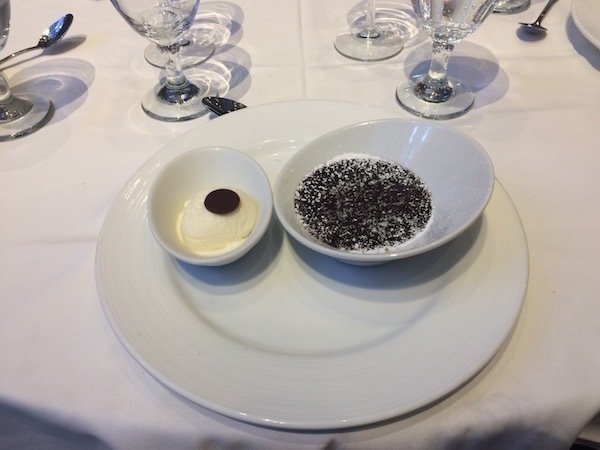 What do you look for in a cruise ship inspection? What social media strategies promote the most engagement among your clientele! Let me know in the comments below!
---