Where to Find Free Travel Images for Websites
True story: When I was a wee bumpkin to business—this is not too long ago, mind you—I had no idea you couldn't just grab an image off of Google Images. I didn't know what a stock photo was let alone how to find free images for websites. Why would they tease me with images if I couldn't use the images? Jerks.
Well, turns out I might have been the bigger jerk (er, criminal?) because—whoops—I was the one stealing images protected by copyright laws.
Maybe you know this already, maybe you're just finding out. Either way, using images that someone else has taken without their permission is a big no-no.
This article will help you find free images for your website and marketing materials. We're going to give you a whole slew of sites to get quality images and help you understand what images you can/can't use.
Essentially, this is the article I wish someone had sent me 5-6 years ago!
The Basics
There are really two ways to find free images for websites: You can take your own photos; or find copyright-free images.
Since I'm writing an article on free images and it dabbles a bit in copyright law, I should be a subject matter expert, right? Wrong. Who knows anything about copyright laws but copyright lawyers? So, I had to do some research. Questions I had, and you probably do too:
Q: What exactly is copyright? For our purposes, it means the person that took the photo or made the image owns that work. It gives them the right to do things like sell it, display it publicly, reproduce it, and more. It also gives the author the right to bring legal action against anyone that violates their rights. Ahem, that's you, Steph circa 2006.
Q: What's the difference between copyright materials and those in the public domain? Copyrighted materials are just that—materials protected by copyright. Works in the public domain have either forfeited their intellectual property right, they've expired, or they never had them.
Q: How do I know if it's copyrighted? Let's generalize. If you didn't take it or make it, it's probably copyrighted. That's right, even if you don't see the little ©, assume it's still copyrighted. Factoid: A copyright notice (©) used to be required but for works published after March 1st, 1989, the copyright notice is optional.
I say always assume it's copyrighted unless you know it's a work in the public domain—which, by the way, is not the internet-at-large even though the internet can seem a public space.
Now that we've got the basics, let's go into how to find free images for websites. Where can you find these magical creatures?
For Free Images for Websites, Grab YOUR Camera
Digital photos are free, take lots of them. Ever since I started my site, I'm always taking pictures of the most random things. Who knows when I'll need them? The clouds, a street sign. The people next to me on flights must think I've never set foot on a plane; I snap ridiculous amounts of pictures out of the window.
But, it can yield some good material to play around with. Here's my original shot (see the full moon?!?):
And, with a little work in Photoshop, it turned it into my Facebook timeline image:
We're not selling cogs here. We're in the travel business, always visiting picturesque places. Take the time to take some nice photos!
Websites with Free Images
You want free images for your website but your photo skills are ... lacking. Never fear, there are some great sites that have copyright-free images for you to use.
A brainchild of Wikimedia Foundation (think: Wikipedia's parent company), Wikimedia Commons is a free media depository hosting over 17 million files as of May 2013. The quality can vary but you can find some real charmers in there.
Every image has a section below called Licensing where you get the 411 on the image. It's in an easy-to-read format that you will find familiar if you work with Creative Commons.
You might also want to check out the FAQ section and the tutorial on finding images.
Pixabay was started by two guys in Germany and honestly, I would give them a hug if I could! Everything on Pixabay is in the public domain space. You can use it for free (for personal and commerical use) and no attribution is required. They've got lots of free images for websites... including this cute puppy photo!
Here's the catch. They have to make money somehow. They do it by having sponsored images (royalty-free images you pay for) at the top of every search. Before you fall in love with that cute puppy picture, you'll want to be aware the first row is paid images.


I'm thinking we could have named it something other than MORGUEfile, don't you? Most people think dead body storage when they think of morgue, not the lesser known definition: a collection of reference material at a news office.
I shouldn't judge; they've got some beautiful, beautiful photos on there! While they only have 10,000 photos, bottom line is they've got some high quality free images for websites. In my opinion, they're less commercial-looking images than what you'd find on other free stock photo sites.
It's important to note that the images on Morguefile are not in the public domain. The way they explain it: the images have free usage rights. Essentially it's like you took the picture yourself, except you can't claim ownership of the image. Here's what they have to say about using the images for blog posts:
"If you would like to use the image in a blog post, we recommend contacting the photographer and providing a by line under the photo with the photographer's name. This is generally agreed to be acceptable."
The license info is indicated in the righthand sidebar when you open a photo:
Since this site contains images outside the public domain, make sure you understand how the site works, there are some strings attached. A trip to their FAQ page will give you quick, straightforward answers.
So, Creative Commons is a nonprofit organization that, simply put, created an easy-to-use, easy-to-understand licensing infrastructure. They have 6 main licenses you'll want to understand. Some require attribution (give credit), some are non-commercial use only, some don't allow any derivative works (no changing it). Flickr Creative Commons has a concise explanation of the Creative Commons licenses.
Flickr is separate from Creative Commons but they have folded Creative Commons licensing into the user's upload experience. When images are uploaded, the user can easily choose the Creative Commons license they want. By making it easy to set up the licensing, Flickr has an amazing repertoire of photos with Creative Commons licensing. Those photos become Flickr Creative Commons.
But, searching for free images for websites on Flickr is deceptive! You may accidentally be pulling up copyrighted works when you search in Flickr Creative Commons. Make sure when you search, you click on the license menu:
Then, select the option to only search Creative Commons licensed content that matches what you're looking to do:
Now when you view an image look in the bottom right corner to see what type of Creative Commons license you're working with: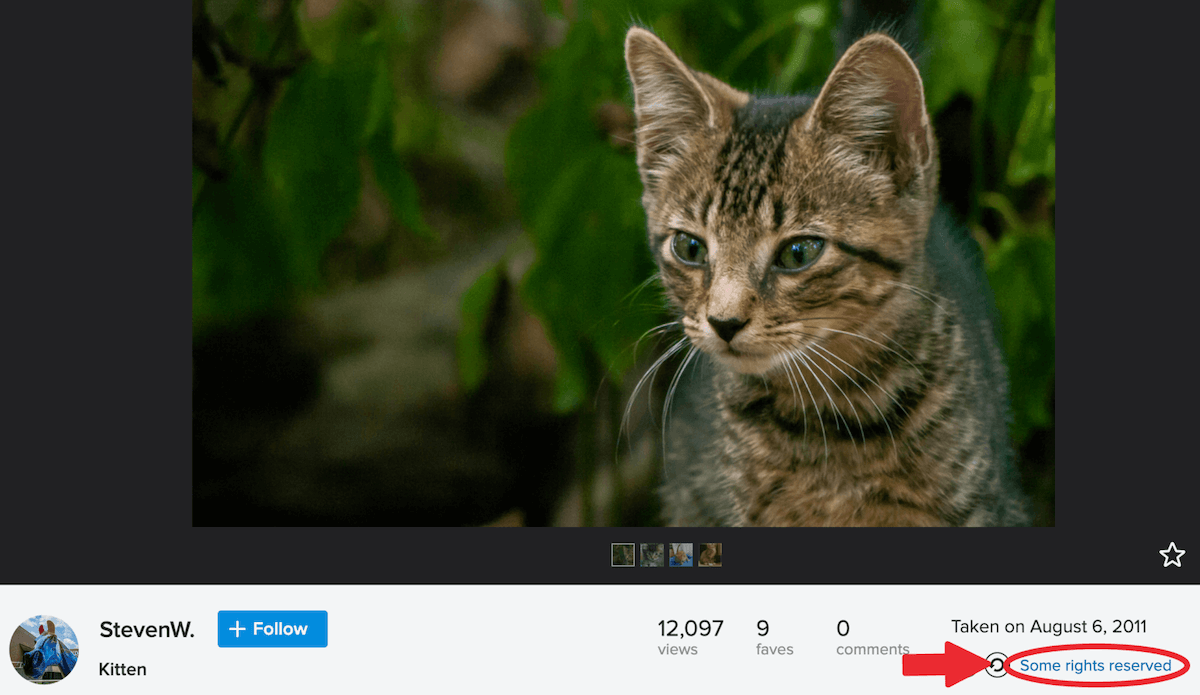 Warning: The quality varies greatly on Flickr Creative Commons so if you're looking here, be prepared to sift through crap to find a gem.
It's an image search engine. Two things to point out here: 1. you need to add a filter to search for Creative Commons licensed images and 2. the first two rows are sponsored images (stock photos you pay for).
You can find some great, high-quality images:
The image's download page is easy to navigate. The licensing is clearly marked and they even give you the HTML code for your page for attribution:
Lastly, if you still have questions, their FAQ page explains how their filter works and how to attribute an image to the author.
Oh wowsers, I love this Unsplash site! It's got a clean interface, simple design, no attribution needed, and some amazing high-res pics!
What you need to know about using their photos (straight from the horse's mouth):
"All photos published on Unsplash are licensed under Creative Commons Zero which means you can copy, modify, distribute and use the photos for free, including commercial purposes, without asking permission from or providing attribution to the photographer or Unsplash. - Unsplash.com"
Pretty simple, right? There's some real beauts on Unsplash too. While I don't have to (Unsplash is so cool!), I want to attribute the image below to Anthony Delanoix (he's got great travel images on his profile, so check it out).
They've also got a newsletter you can sign up for with the great tagline: 10 free high res images, delivered to your inbox, every 10 days.
Speaking of simple, Pexels sums up their license in 3 bullet points:
All photos on Pexels can be used for free for commercial and noncommercial use.
Attribution is not required. Giving credit to the photographer or Pexels is not necessary but always appreciated.
You can modify the photos. Be creative and edit the photos as you like.
They make finding great photos easy too with their explore tab. In addition to searching by keyword or color you can browse through photo categories like Pale Tones, Warm & Wonderful, and Feeling Happy to spark some inspiration. Or click over to the photographer leaderboard to find images by some of the best content creators.
As an added bonus they even include search results from our number two pick Pixabay.
And just to outdo themselves they also provide a whole slew of free videos for you to pick from. Double bonus! 😃
More Resources
If you're just pining for more information on copyright law (because who isn't?) here's some articles to check out: LifeHacker, Social Media Examiner, and an extremely thorough article on photographer's Ken Kaminesky's site.
I'm also going to put a plug in that if you liked what you read here, I think you should consider subscribing to our newsletter! It comes out once a month (on the full moon) and you get to see a picture of my dog in a NASA space suit (for reals).
I Ain't No Lawyer.
You should know this by now. A lawyer would never be ignorant enough to think they could just grab any photo online and all would be well with the world. I'll say it anyway: this isn't legal advice, I'm not a professional. I'm just a lady that has a (really) cute dog. Like, cutest dog in the world.
Wrapping it Up
I wanted to give a big thank you to all those at my co-working space CoCo and Facebook friends that shared where they go when looking for photos. The article is a thousand times better thanks to their input!