How a Realtor Opened a Travel Agency During a Pandemic
Jenn Erickson of Wilmington, Mass., owns a real estate office and decided in 2018 she needed to change careers to something that was less stressful. With a love for traveling and a desire to share her adventures seeing the world with her 12-year-old son, Jenn decided to look into becoming a travel agent as a second career. After researching for more than a year, in December 2019 she took the plunge with Cruises Inc. and officially opened her travel agency on January 1, 2020.
After opening her travel agency, Jenn developed a marketing plan for herself and her business. She understood that business wouldn't just start flowing without effort. In the beginning, she invested the necessary time to figure out what she wanted to focus on and developed herself by taking as many trainings as possible. Jenn worked to get her name out in the community as someone active, knowledgeable, hardworking, and friendly.
From her real estate career, Jenn learned that no matter the size of the deal, you treat everyone the same. You never know who they will refer or where it may lead. She recognized that this was especially important to growing her business as a new travel agent. As it turned out, it only took a short time for one of her smallest leads to become a successful client who booked five separate transactions with her and then referred many family members.
Then, shortly after her momentum started the COVID-19 pandemic took ahold of the world and business came to a virtual standstill. She was forced to ask herself how was she going to juggle being a mom, teacher, volunteer, and travel agent?
Having dedicated workspace and time is incredibly important when being a work-from-home travel agent, but as Jenn quickly learned it was invaluable during these unprecedented times. With her son Axel doing remote learning, and she and her husband both working from home, it was more important than ever to have designated workspaces for when they were all on webinars or the phone. Jenn set up her family with a shared calendar that shows the schedules for all their individual personal, work, school, and volunteer meetings. These past few months using the calendar and keeping their dedicated workspaces organized has been key to juggling the family activities.
Jenn believes you must have a dedicated place where you can put on your professional hat. Every morning she goes to her home office and plans her day – allocating time for calls, research, returning emails and more. Being in her office puts her in the business mindset and having some sort of set schedule is a huge benefit when trying to juggle life, kids and volunteer work. A huge amount of patience also has been key.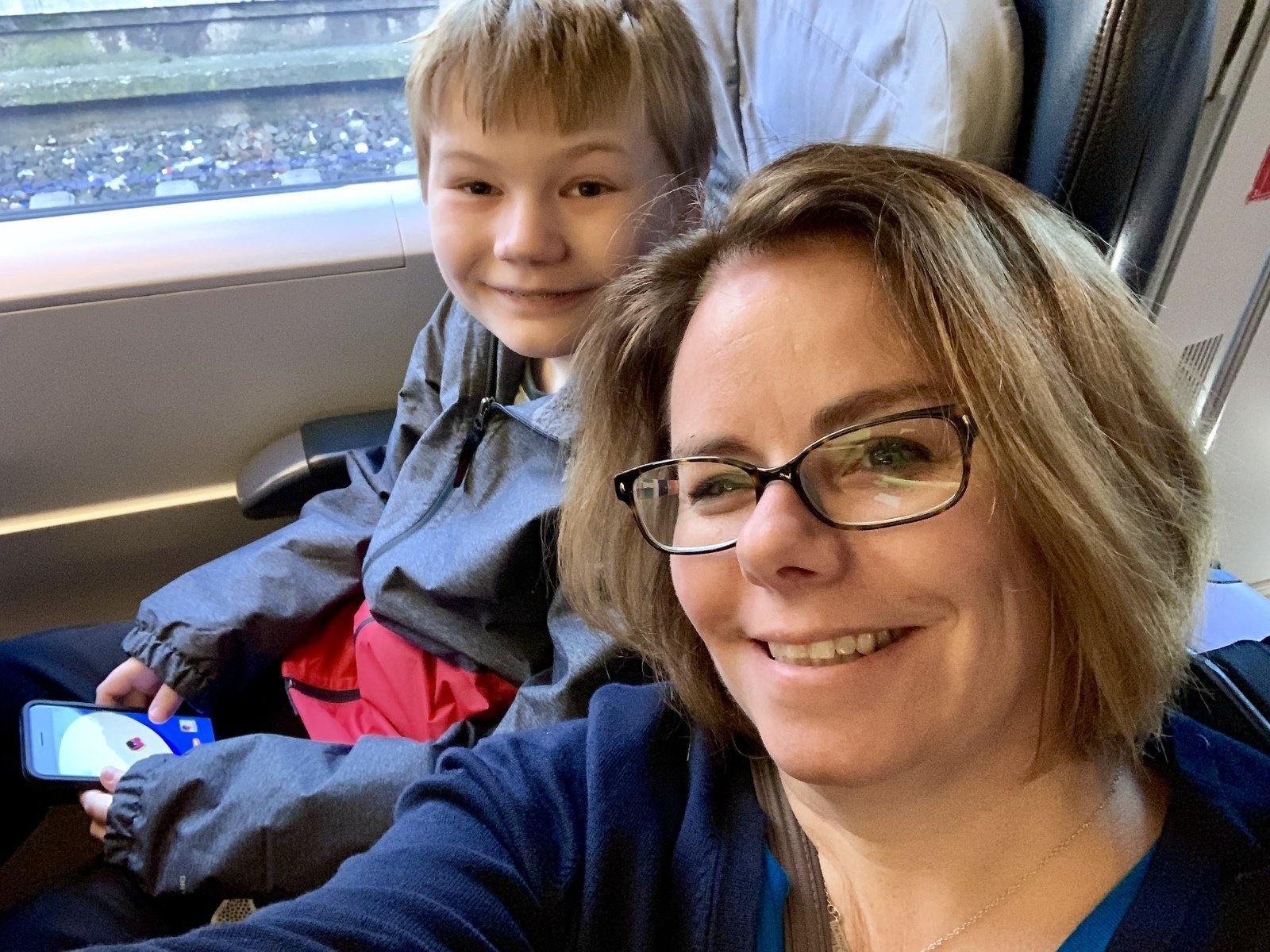 When life first started to change and all the uncertainty was peaking, Jenn allowed herself a two-week window to be nervous, upset and watch the news incessantly. As her son started remote learning, she decided to snap herself out of her funk and better herself to learn more about her new industry. She earned a Certificate of Hospitality & Tourism Management from Florida Atlantic University, as well as completed training to receive the Saint Lucia Expert (SLEx) Certificate.
Understanding the importance of being knowledgeable on the locations she wants to sell, coupled with the fact that in this current time it is just hard to market a vacation, she decided to switch gears. She took the time to learn all she could on domestic travel by completing many webinars and training sessions with Railbookers and Amtrak. Staying engaged with Cruises Inc. and completing these educational courses has kept Jenn excited about the travel industry and more knowledgeable on how travel will be when the world starts to open back up.
Jenn believes that to be a successful travel agent you must love what you are selling and have a desire to make sure that the trip you plan is the absolute best adventure for your client. In any career, but especially as a travel agent, you must be able to talk to people and listen to their wants, desires and fears. You must be the one who can take their worries off their backs.
Jenn's bucket-list vacation is a European river cruise and a visit to Italy since her son is studying Italian.
In operation since 1982, Cruises Inc. has an A-rating from the Better Business Bureau. Its independent vacation specialists nationwide create seamless vacation experiences, whether it be a cruise, resort stay or land tour, with the support of World Travel Holdings, the nation's largest cruise agency and award-winning leisure travel company. For more information about becoming an independent vacation specialist with Cruises Inc., please visit www.sellcruises.com or call 888-462-4992.