Cruise Planners hosts their 2nd Elite Summit for top Producing Agents in the Bahamas
Cruise Planners revels in the opportunity to celebrate the achievements of their top producing advisors and held a successful second and final Elite Summit of the year at the luxurious Sandals Royal Bahamian in Nassau, Bahamas. Select Cruise Planners travel advisors earned their invitation to this trip based on sales performance and joined executives and suppliers for a week of sun, fun and networking in the Bahamas.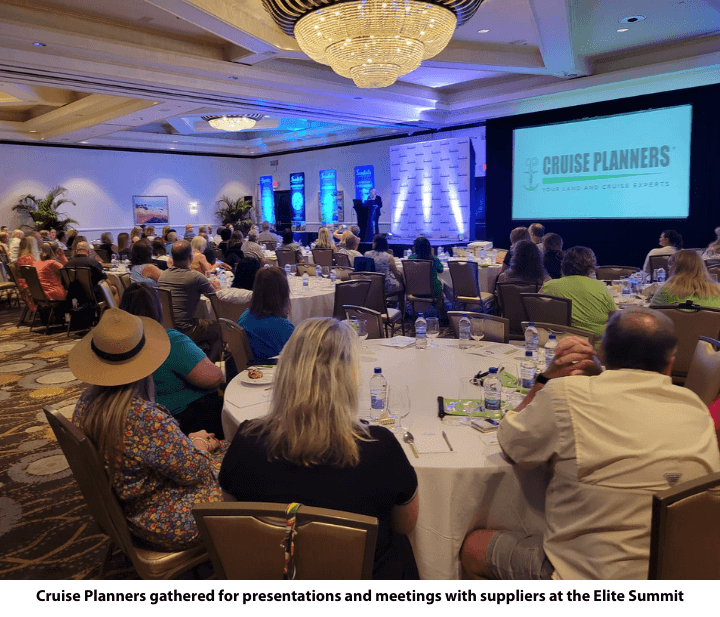 "We are so thrilled to be able to gather here at this beautiful resort to celebrate the accomplishments of our advisors, especially during National Travel Advisor Day," said Michelle Fee, CEO and founder of Cruise Planners. "Travel advisors are the cornerstone of this great industry and we're so proud of the work they've done to support the red-hot return to travel. All-inclusive resorts sales are what kept many of our advisors afloat during the pandemic so it's fitting that we are celebrating their achievements here at Sandals."
The four-day event was hosted by Fee, Chief Sales Officer, Theresa Scalzitti and Senior Vice President of Strategic Planning, Scott Koepf, with more than 150 attendees including travel advisors attending along with various supplier partners.
The Elite Summit featured presentations, one-on-one meetings with key supplier partners and exclusive Cruise Planners receptions, dinner events, entertainment and more.
"This summit is a celebration of hard work, effort and return to worldwide travel," said Melissa Zeneri Shanks, a top franchise owner based in Ohio. "My team worked hard to cultivate and nurture relationships throughout covid, so when the world opened up, they came back to our trusting relationships for travel planning expertise."
"We always boast about how great it has been to be a part of Cruise Planners," said Scott & Robin Roether, who attended for the first time. "We see so many other travel agents and realize how important it is to have the support we do from Home Office. We really like connecting with everyone and it's been fantastic."
Cruise Planners is recognized as "Best of the Best" by Sandals Beaches and Resorts as their #1 seller in the world. Cruise Planners is also gearing up for its annual convention in November at the Intercontinental Hotel as well as on board the Norwegian Prima. This year's convention, taking place in Miami, will reveal the latest announcements and tools for travel advisors.
Anoop Mittra, who has been a CP Advisor for over 15 years has been on several Elite Summit trips, says he looks forward to it every year for camaraderie and Cruisitude. What is Cruisitude?
Listen to Anoop explain it in his own words…