Find the Best Credit Card Rewards for Your Agency
This is the 4th of 4 articles in our Best Travel Agency Credit Card Series. Read the rest here: 
But we wanted to follow up with a basic overview that outlines the different types of rewards and what they really mean when it comes down to redemption values.
I'm not going to get too deep into reward specifics. After my weeks of research, I've discovered I'm not a pro, so I'll leave explaining on how to play (and win!) the travel rewards game to the true aficionados that devote their entire websites to just that! In this case, the aficionado I'm referencing is The Points Guy. He categorizes reward points into 3 categories: Fixed Value Rewards, Transferable Rewards and Co-Branded rewards. 
We also include cash back rewards in our list even though it's considered a "fixed reward" (more on that soon). 
This was a tough area for me to wrap my head around. There are so many credit cards and loyalty programs out there. What does 2 points/$1 mean when I have no idea what a point is worth?! Then add in the variables that come with a transferable points? This was me:
So I don't scare you off too soon, let's start off with the easy one 😉
1. Credit Card Rewards | Fixed Value:
An Overview: 
With fixed value points, you always know what you are going to get. "1 point will equal $.xx when redeemed for XYZ" No surprises when it comes time to use the points. 1
Fixed Value Credit Card Rewards:  For a fixed value credit card, there are specific redemption rates you earn so you know exactly what your points are worth for each way you redeem points. One card can have multiple redemption rates depending on how you redeem your points. For travel credit cards, you usually get the highest redemption rate when you redeem your points for travel compared to statement credits, gift cards, etc.
Wondering how to shuffle through all that info? Don't worry, we've got you covered 🙂
We've created a handy Credit Card Point Calculatorto help you figure out your redemption rate PLUS potential reward earnings based on your spending and card specifics. We even have a short videoto show you how to use it. It's super easy, I promise!
You might have to use our calculator more than once for the same credit card to find the redemption rates for different categories. For instance, maybe 50,000 points equals $650 when redeemed for travel but only $500 when redeemed for cash. That would mean when redeemed for travel, your points have a 1.25% redemption rate but when redeemed for cash, their redemption rate drops to 1%.
Confusing, I know. But I promise the calculator will make it a bazillion times simpler. Ready for the tricky part? Deep breath:
2. Credit Card Rewards | Transferable Points: 
An Overview of Transferable Points:
Transferable points offer the flexibility to get awards on different partners and alliances (i.e. different airlines, hotels, rentals etc.). It means you're able to transfer the points you earn with your credit card to one of the cards partners. This will help you consolidate all your points onto one card so you get the most leverage from your points by applying them to your favorite travel partners.
Airline point awards 2 generally don't correlate to the ticket value, so you can get really expensive tickets for a relatively low amount of miles if you're on the lookout and flexible with your dates/destinations. (On the flip side, you can also get a cheap ticket for a huge amount of points! Hence, the ugly side of transferring points). 
Transferable Credit Card Rewards: 
Just because a credit card is labeled "transferable" doesn't mean you have to transfer the points to the partner brands. If you're using your points for rewards that the credit card company offers (gift cards, statement credits, etc.), then the fixed value section above is applicable for those redemptions.
However the confusion comes when transferring points to a partner program. Most commonly, airline frequent flyer and hotel reward programs. As you may have already guessed, there's no cut and dry answer for, "What is 1 point worth?"
So when it comes to transferring your credit card points to a partner program, you'll want to consider a few things:
1. What is the transfer rate from your credit card's rewards to the partner's rewards program?
Is the transfer rate a 1:1 ratio where 1 credit card point equals 1 partner reward point? Or is it a less favorable at 2:1 meaning you'll receive half the points. 
For example, American Express has a 1:1 ratio with most of their partnerns, but with AeroMexico, the ratio is 1:1.6 (meaning you'll get more AeroMexico's Premier Points/AX point). On the other end, AX's ratio with jetBlue is 1:0.8 (you'll receive less JetBlue's TrueBlue points/AX point). 
Essentially what you want is lower number : higher number. What you don't want is higher number : lower number. 
But that's only part of the story. This is where I contradict what I just said. Please don't hate me: 
2. What is a point in those partnership programs worth?
This will vary by how each partners' frequent traveler program is set up. You might not get as many TrueBlue points compared to AX points, but perhaps those TrueBlue points are worth more. 
I'll be honest, there are just too many frequent traveler points and changes for little ol' me to look up! So my advice to you is to investigate how your favorite frequent traveler programs are structured.
3. How can you use those points?
You may already be familiar with this as you've likely used your frequent traveler program's points before but in case you're new to this, check how redemption works and the best ways to redeem.
Some credit cards always have the same redemption whereas others have award values that are independent of their cash value. This means you could potentially get a stellar deal (usually upgrades) using your points that would otherwise cost an exorbitant amount. But it also typically means you've been flexible with your search parameters (dates, locations) and were likely looking for awhile.
I am quite aware that my bias for ease over complication comes through when it comes to transferable credit cards. So I want to clarify, you can absolutely get some great deals and super high redemption rates. This is ideal for those who really utilize their respective frequent traveler programs. With all those reward points you're transferring, you're also increasing your status with that partner.
So don't be scared away, just be aware of what you're getting into; those fantastic deals you hear about typically take more work and flexibility; they're the exception, not the norm. Last thing I'll note on transferable credit cards is to make sure you check the partner programs to see if they're ones you use or will use. Do you fly those airlines and/or stay at those hotels?
I guess that wasn't too bad 🙂
3. Credit Card Rewards | Co-Branded Rewards:
An Overview of Co-Branded Cards:
While you lose the flexibility of being able to transfer to different partners or redeem points for cash, etc., co-branded cards usually get you perks and upgrades with the brand airline/hotel, such as elite qualifying miles, lounge access, free checked bags, free night stays and other perks. 3
This is best for those who want to maintain or develop status with a particular airline or hotel.
Co-Branded Rewards: 
There is so much variance in co-branded rewards, that it's impossible to boil down. But if you live and die by a particular travel brand, this could be a good option for you. Check into how their reward structure is set up and see if it works for your spending and travel habits.
4. Credit Card Rewards | Cash Back Rewards:
An Overview of Cash Back Rewards: 
Seeing as we're in the travel industry I was focused on travel cards and almost left out cash back rewards. That would've been a shame! Cash back rewards are an example of a fixed reward. While you likely won't get a signing bonus or see as many perks, with cash back cards, you know you're always earning a certain percentage of what you spend. Your percentage back could be the same no matter what you purchase with your card or might have bonus categories that earn a higher percentage cash back. Psst: From what I've found, aim for 2% as a base amount. That's higher than what you earn back on most travel cards!
Cashback Credit Card Rewards: 
The great thing about cash back rewards is that what you see is what you get. You can use the cash you receive for whatever you want, including travel. You don't have to do anything special or jump through hoops to redeem.
One thing to look out for is rotating categories. That means the credit card lets you choose your bonus categories where you earn the highest percentage every quarter (or some other designated time period). It seems like a great idea but if you don't go in and choose every rotation, you won't earn that higher percentage. Basically, they require more work on a regular basis. I didn't include any cards like this on our lists: Business credit cards, Best personal credit cards and Top travel brand credit cards.
I also disqualified a lot of cash back cards from the list because they are often geared more towards personal spending categories like gas, groceries and dining . . . but you can still use cash back bonus on business expenses! 
Nice. How do I know if my rewards are fixed or transferrable? 
Our best business cards and best personal cards articles list whether the points are fixed or transferable. Look for this: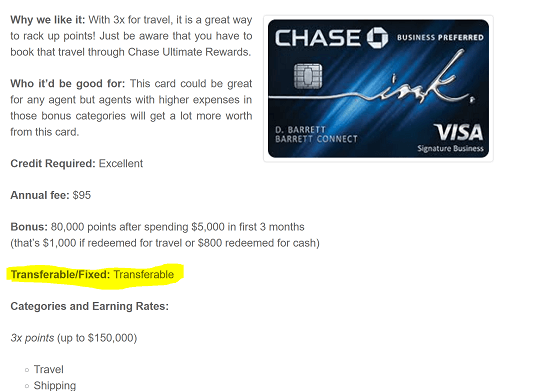 Just remember, even if a card is labeled transferable, it doesn't mean you have to transfer the points. You could choose to redeem those points for other things that the credit card offers: gift cards, statement credits, etc. In which case, you'd be using your rewards at a fixed value.
The black sheep here are co-branded cards . . . where points typically can't be transferred and may or may not be fixed depending on the brand reward structure and rules. *sigh* They just can't make this easy, can they?
Final Notes
So after all of that, here's my quick synopsis:
Fixed rate travel cards are a nice mix of getting travel perks and steady redemption rates. Also good if you want to earmark your rewards for specifically travel use - like saving money in a jar for your next vacation.
Transferable travel cards are great if you're a frequent traveler and want to use your points for upgrades and award rates and/or if you want to start earning status or add to your existing level.
Cash back cards are nice and simple cards that give you great redemption rates, flexibility (cash is king!) and little hassle to redeem.
Now that you can make an informed decision on the type of rewards you want, check out our lists for best business credit cards, best personal credit cards and top travel brand credit cards for your travel agency!
If you want to jump right in and start searching cards, check out Credit.com's lovely search filter to find a card for your needs!
What's Your Favorite Credit Card Reward Type?
I'd love to hear your thoughts on credit card rewards! What types of credit card rewards do you use for your agency? How do you use them? What did we miss?
Footnotes
 https://thepointsguy.com/2011/05/understanding-how-credit-card-travel-rewards-work/ ↩
except Southwest, Virgin America and JetBlue ↩
 https://thepointsguy.com/2011/05/understanding-how-credit-card-travel-rewards-work/ ↩